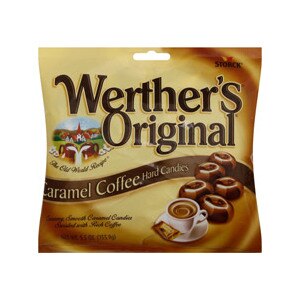 Werthers Original Hard Candies Caramel Coffee
The old world recipe. Creamy, smooth caramel candies swirled with rich coffee. A long time ago, in the small European village of Werther, candy-maker Gustav Nebel created his finest candy. He used the best ingredients - real butter, fresh cream, white and brown sugars, a pinch of salt and lots of time - to create a treasure worthy of being wrapped in gold. He named this candy Werther's Original, in honor of his beloved town. Crafting this smooth, creamy caramel became a family tradition handed down through generations. Today, people can enjoy the delicious flavor combination of caramel and rich coffee in Werther's Original Caramel Coffee Hard Candies. Made in Germany.
Glucose Syrup (From Wheat or Corn), Sugar, Cream, Condensed Whey, Butter, Salt, Cane Sugar Syrup, Ammonia Caramel (Color), Emulsifier Soy Lecithin, Flavoring, Coffee Extract.
Hard candies may be inadvertently swallowed and cause choking. Allergy Information: Contains milk, soybeans and wheat.