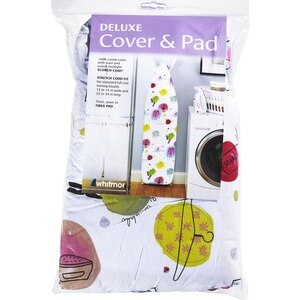 Whitmor Deluxe Ironing Board Cover & Pad Daisies
13 inch - 15 inch wide and 52 inch - 54 inch long. 100% cotton cover with stain and scorch resistant Scorch-Coat. Stretch cord fit. For standard full size ironing boards. Thick, sewn-in fiber pad. Cover and coating: While natural cotton is a scorch resistant fabric, Whitmor's Scorch-Coat is a special treatment applied to the cotton for additional scorch ressistance along with stain and moisture resistant protection. Stretch cord fit: Nose pocket for easier installation and more secure fit. Heavy duty stretch cord keeps cover securely in place. Fiber pad: Thick, sewn-in fiber pad. Sewn-in thick fiber pad for smooth ironing surface and quick installation. Made in China.
Cover: 100% Cotton with Scorch and Stain Resistant Finish, Pad: Synthetic Fibers.