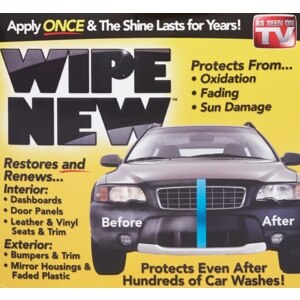 Wipe New - As Seen on TV

Wipe the years away from your car with Wipe New. Renew your vehicle in minutes with just one application that lasts for years. The specialty liquid binds to the surface of interiors and exteriors with a single wipe. Discover the secret used by professionals.
Features:
Revolutionary product used by professionals
Easy to use and apply
Last for years
Restores and protects with one wipe
Also us on RV, boats and motorcycles
Use on both interior/exterior surfaces
Save time and Money!
Includes:
2 yellow Wipe New applicator cloths
1 red headlight applicator
1 blue headlight polishing block
1 detail brush
1 pair of nitrile gloves