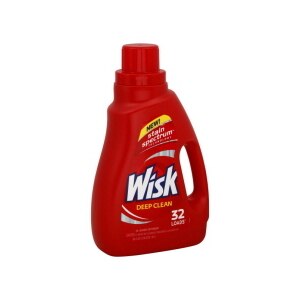 Wisk 2X Concentrated Laundry Detergent Deep Clean
32 loads. Concentrated power, use less. 2X Ultra. Concentrated cleaning power. Wisk does not contain phosphorous. The surfactants in Wisk are biodegradable and safe for septic tanks. Made in USA.
Cleaning Agents (Anionic and Nonionic Surfactants, Enzymes), Water Softener (Sodium Citrate), Stabilizer, Buffering Agent, Perfume, Polymer, Brightening Agent, and Colorants.
Measure with cap. Large Loads: Line 3 - 1.9 oz, Normal Loads: Line 2 - 1.5 oz. Pretreat: Pour Wisk directly on tough stains. Rub in. Always test an inside seam for colorfastness.
In case of eye contact, flush well with water. If swallowed, drink a glass of water. Call a physician. Keep out of reach of children.