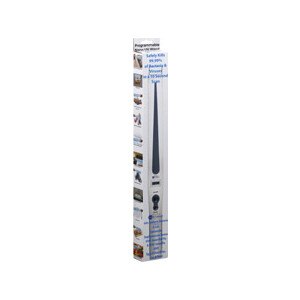 Zadro Health Solutions Programmable Nano UV Wand
The following are the only claims that Zadro Health Solutions makes regarding our NANO products, which can be substantiated by independent testing:
Within 10 seconds, kills 99.9% of:
E.coli
Staphylococcus aureus
Salmonella typhimmurium
MS2 (single-strand RNA virus)
Reduces viral antibodies against H1N1 within five to thirty seconds
Zadro Health Solutions makes no claims regarding the effectiveness of this product as a means to eliminate any other bacteria, viruses, fungi, or other organisms. Any number other than 99.9% is inaccurate. Any mention of dustmites, lice, fungus, SARS, or other diseases not listed above is also inaccurate.
This product is designed as a powerful surface disinfection tool. It produces sufficient energy to damage and alter DNA of all kinds of microorganisms. Do not expose your body or your eyes to this energy. Ultraviolet light can be harmful to skin & eyes, it is important to use the Nano UV Wand properly. Keep out of reach of children. Do not look directly into the UV ligh. Do not use the Nano UV Wand on any part of your body. Do not allow anyone to use this product until they fully understand the proper operating procedures and warnings.