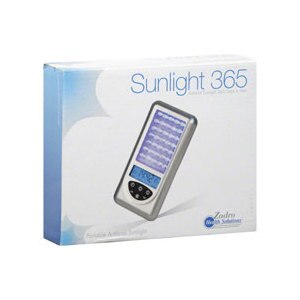 Zadro Health Solutions Sunlight 365 Portable Artificial Sunlight
Artificial sunlight 365 days a year. Portable artificial sunlight. 35 blue LED's. Adjustable light intensity. Programmable. Countdown timer. Desktop clock. LED backlight. Portable. Travel pouch & adapter included. Sunlight 365 is Artificial Sunlight with the Following Features: 10,000 LUX of light; adjustment of light intensity 10-100%; compact for travel; LCD backlight; free travel pouch; power adapter. Alarm clock functions lets light gradually increase as you awake with natural sunlight. During winter months when there is not a lot of natural sunlight or when it's raining or snowing, you might be feeling the blues. A bright light in sunlight frequency can help as your brain perceives it as natural sunlight. Nutrition. Sense. Water. Outdoors. Heart. Relax. Light. Research has shown that a specific spectrum of blue light is the closest to natural sunlight. It is safe. No UV! Why blue? The blue color spectrum and intensity are the closest to daylight. Research shows that using 10,000 LUX and wavelength between 460 nm and 480 nm is the most effective artificial sunlight. Electrical Specifications: Voltage 6V DC; Amperes 800 mA; Operating temp 20-140 degrees F; Light frequency 470 nm. CE listed. UL listed. Made in China.
Please read instruction manual before using this item. If display stops working, replace CR2032 battery.
Need to Know: Do not stare directly at the Sunlight 365. Users with eye problems, eye injury, laser corrective surgery or any other eye related conditions - please contact your ophthalmologist or health care provider before using the Sunlight 365. Our product is not listed as a medical device. Please consult your doctor prior to using the Sunlight 365.