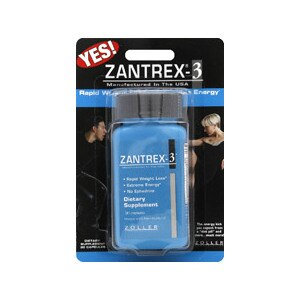 Dietary supplement. Rapid weight loss. Incredible energy. No ephedrine. America's number 1 selling diet pill. The energy kick you expect from a diet pill and more, much more! This product is manufactured to be within all acceptable industry variances. Standardized Extract (SE) means an extraction process providing the highest quality compound manufactured to acceptable industry variances. (These statements have not been evaluated by the Food and Drug Administration. This product is not intended to diagnose, treat, cure or prevents any disease). Use in conjunction with any sensible diet and exercise progream. Individual results will vary. Manufactured in the USA.
Other Ingredients May Include: Rice Flour, Magnesium Stearate, Cellulose and Silicon Dioxide. Zantrex-3 a Proprietary Blend Containing: Yerba Mate (Leaf) SE, Caffeine, Guarana (Seed) SE, Damiana (Leaf, Stem) SE, Green Tea (Leaf) SE, Kola Nut SE, Schizonepeta (Spica) SE, Piper Nigrum (Fruit) SE, Tibetan Ginseng Root (Root) SE, Panax Ginseng (Root) SE, Maca Root SE, Cocoa Nut SE, Thea Sinensis Complex (Leaf) SE.
For maximum weight loss, take two capsules with a large glass of water, 15 minutes before main meals. Not to exceed 2 servings in any 8-hour period. Remember, the calorie-reducing properties of Zantrex-3 are activated by food. For a significant energy boost, take 2 capsules anytime as needed. Do not exceed 6 capsules per day. For persons sensitive to the effects of xanthines (i.e. caffeine and caffeine-like stimulants), start by taking only 1 capsule as directed above and do not exceed a total of 2 capsules per day.