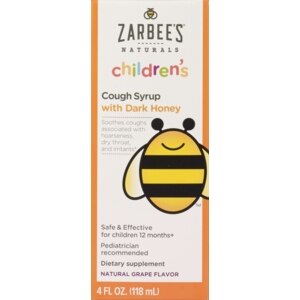 Zarbee's All-Natural Children's Cough Syrup Honey Blend Grape Flavor
100% Drug-Free Dietary Supplement. All-natural. Special honey blend. Safe & effective for children 12 months +. Soothes sore throats. Immune boosting formulation. Pediatrician recommended. Clinically proven. Zarbees uses a special blend of antioxidant-rich dark honeys clinically proven to be more effective than traditional cough medicine. (Clinical trial comparing buckwheat honey to Dextromethorphan). Our all-natural formula is: gluten, dye & preservative-free; Safe and natural-contains no drugs or alcohol. Safe + Effective: As a pediatrician and a father, Dr. Zak Zarbock found it frustrating when he wasn't able to offer any relief to his young patients with a cough. So, he set out to create a safe, effective and natural remedy that he could feel good about recommending. Dr. Zarbock's research led him to the amazing benefits of honey with its natural cough suppressing and immune boosting power. Made with a unique blend of antioxidant-rich dark honeys, and fortified with vitamin C and zinc, Zarbees Cough Syrup is proven and safe solution to naturally soothe your child's cough. Pediatrician recommended. (These statements have not been evaluated by the Food and Drug Administration. This product is not intended to diagnose, treat, cure, or prevent any disease.) Made in USA.
Proprietary Blend of Buckwheat and Other Dark Honeys, Water, Natural Flavors, Ascorbic Acid (Vitamin C), Malic Acid (Natural Fruit Acid to Boost Immunity), Zinc Gluconate, Tartaric Acid.
Dosing Guide: Under 12 Months: Not recommended. 12 Months to 5 Years: 1 teaspoon. 6 Years to 12 Years +: 2 teaspoon. Shake well before using. Take every 4 hours not to exceed 6 doses in 24 hours or as directed by a doctor. Store at room temperature.
This product is not intended for infants less than 12 months of age. Please consult your physician immediately for a worsening condition, high fever, rash, lethargy, persistent headaches, or symptoms lasting greater than 7 days.