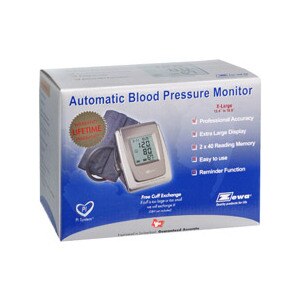 Zewa Automatic Blood Pressure Monitor Mfm-007 Xl
Professional accuracy. Features: date and time, reminder function, Systolic blood pressure, Diastolic blood pressure, pulse rate, 2 x 40 reading memory and average, large time display, displays room temperature. Personalized inflation makes blood pressure monitoring easy. Your blood pressure is constantly changing. This blood pressure monitor will take those changes into consideration and adjust to your pressure each time you measure. Personalized inflation results in a faster more accurate reading. Contains: 1 digital blood pressure monitor, 1 upper arm cuff, 1 storage bag, 1 English/Spanish instructions, 4 'AA' batteries. X-Large cuff (13.4 in. to 18.9 in.) Free Cuff Exchange: If cuff is too large or too small we will exchange it! (S&H not included).
Please make sure you are using the right cuff size. Having the right cuff is very important to achieve accurate readings. Measure the circumference of your left arm and determine which cuff is correct for you. X-Large cuff: Fits arm sizes 13.4 inch to 18.9 inch circumference.