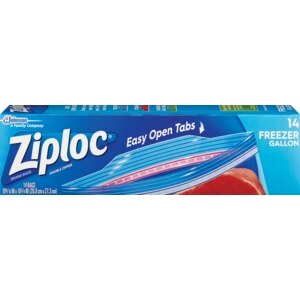 Ziploc Freezer Storage Bags Gallon Size
Compare & Save
with CVS Pharmacy Brands
Size: 15 EA
(1)

$3.29

(18.3¢ / ea.)
10-9/16 in x 11 in. Ziploc means fresh food for your family. The extra-thick plastic and the freshness seal you can feel help America's No. 1 branded bag lock out freezer burn and guard against moisture loss. And now, Ziploc also means convenient fresh ideas - from freezer to microwave to dinner table! Trim excess fat and repackage meats in Ziploc bags before long-term freezing. Preserve food's color, texture and flavor by setting your freezer to 0 degrees F or below. For efficient freezing in Ziploc bags label and date bags; keep freezer at least 2/3 full; rotate foods to use oldest first.
Defrost and Reheat - Vent bag 1-inch. Caution: For use in microwave, place bag on a microwave-safe dish. Handle with care. Bag and contents may be hot. Do not overheat contents as bag may melt.
Keep bags out of the reach of children.