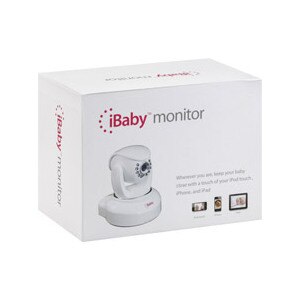 The iBaby monitor follows your little one with an up/down, left/right swipe of your iPod, iPhone or iPad touchscreen or click of your PC mouse, so you're just one touch away no matter where you are. See your baby from your mobile device or PC, and when baby's movement or cry activates alerts, you can respond immediately. Two-way audio lets your voice give comfort when you're needed most, so you and baby are both reassured, wherever you happen to be.


Connectivity: Wireless
Accessories Included: Mounting Kit, Installation CD, Quick Install Guide, Instruction Manual, Camera Mount, Ethernet Cable, AC Power Adapter, Antenna
Device Compatibility: iPhone 3G, iPad 2, iPhone 3GS, iPad, iPhone 4, iPod Touch
System Compatibility: iOS 4.0+
Power Source: AC Adapter
Color: White
Weight: 2.2 Lb.
Warrenty Description: 1 Year Limited Manufacturer Warranty
Wireless Technolog: Wireless LAN