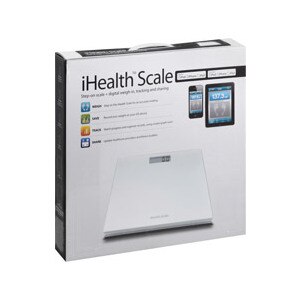 iHealth Scale Digital Scale
Step-on scale + digital weigh-in, tracking and sharing. Syncs with the iHealth Scale app, free at the App Store. Reads and records your weight using Bluetooth wireless technology on your iOS device. Compact design and reliable tempered glass platform. Standard step-on use. Max Weight: 300 lb. Measurement Units: kg/lb/st. 4 AAA batteries included. A sleek and durable scale that supports multiple users on multiple iOS devices so family members can use it. Connect to the iHealth Scale app (free at the App Store). Bluetooth wireless technology lets you weigh in from anywhere. Personalized chart and graph tools for trends over time. Easily share one-time readings or long-term trends with friends, family or doctors. Includes: Bluetooth bodyscale; 4 x AAA batteries; operation guide; quick start guide. Made for iPod, iPhone, iPad. Made for iPod, Made for iPhone, and Made for iPad mean that an electronic accessory has been designed to connect specifically to iPod, iPhone, or iPad, respectively, and has been certified by the developer to met Apple performance standards. Apple is not responsible for the operation of this device or its compliance with safety and regulatory standards. Please note that the use of this accessory with iPod, iPhone, or iPad may affect wireless performance. Made in China.
Weigh: Step on the iHealth Scale for an accurate reading. Save: Record your weight on your iOS device. Track: Watch progress and organize records, using simple graph tools. Share: Update healthcare providers and fitness buddies.