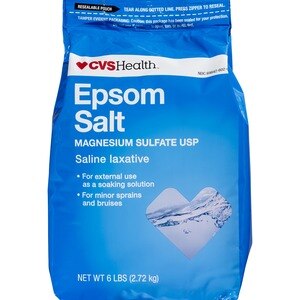 CVS Epsom Salt 100% Natural Mineral
The trusted natural remedy you can use every season of the year. Great for gardening: Mix 1/2 cup of 100% Natural Mineral Epsom Salt per gallon for watering potted plants. Apply one teaspoon per foot for each plant once every two weeks. A mineral spring spa Epsom Salt bath: Springtime is your fresh start to working out, often times leading to overexertion. Just dissolve 2 cups of 100% Natural Mineral Epsom Salt in warm bath water, settle in and experience the relief. First aid for summer: Dissolve 2 cups of 100% Natural Mineral Epsom Salt in 2 cups of hot water to make a compress; apply as a wet dressing with a towel to: Soothe painful bruises and sprains. Alleviate pain from sports and overexertion. Take the sting out of insect bites. Draw out splinters. Relax into fall: By dissolving 2 cups of 100% Natural Mineral Epsom Salt in a gallon of warm water, you'll be able to: Soak away tiredness and soreness. Soothe away stress. Deep clean skin and pores. A saline laxative for the relief of occasional constipation. This product generally produces a bowel movement in 1/2 to 6 hours.
Total Magnesium (Mg) 9.8%; 9.8% Water Soluble Magnesium (Mg); Total Sulfur (S) 12.9%; 12.9% Combined Sulfur (S); Derived From Magnesium Sulfate
FOR EXTERNAL USE AS A SOAKING AID: Dissolve 2 cupfuls of Epsom salt per gallon of water. Apply in conjunction with bandages or toweling or use in a soaking bath. Use with warm water for best results. FOR INTERNAL USE AS A LAXATIVE: Increases water in the intestine, promoting bowel movement. Dissolve the following doses in 1/2 cup of water: Adults (12 years or older) - 1 to 2 teaspoons. Children (6 to 12 years) - 1/2 to 1 teaspoon. Not recommended for children under 6 years of age. Repeat in 4 hours if needed. Limit 2 doses per day. Lemon juice may be added to improve taste. Follow above directions only, or as directed by a physician.
SOAKING AID: Where prompt relief is not obtained, or where there is evidence of infection, discontinue use and consult a physician. Hot or warm soaks should not be used with individuals with diabetes, except on advice from physician. LAXATIVE: Epsom salt is for occasional use as a laxative only. Serious side effects from prolonged use or over dosage may occur. Do not use for a period of longer than one week except under the advice and supervision of a physician. Do not use when abdominal pain, nausea, or vomiting are present. Use only under the advice and supervision of a physician if you have a kidney disease, are taking medication for any reason, or have noticed a sudden change in bowel habits that persists for longer than two weeks. Do not use during pregnancy unless directed by a physician. As with any drug, if you are pregnant or nursing a baby, seek advice from a health care professional before using this product. Keep this and all drugs out of the reach of children. In case of accidental overdose, seek professional assistance or contact a poison control center immediately.