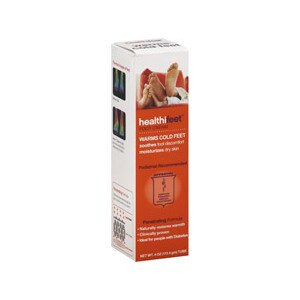 HealthiFeet Transdermal L-Arginine Diabetic Foot Cream
Podiatrist recommended. Warms cold feet. Soothes foot discomfort. Moisturizes dry skin. American Podiatric Medical Association approval. Penetrating formula. Naturally restores warmth. Clinically proven. Ideal for people with diabetes. HealthiFeet is a topical cream clinically proven to relieve foot discomfort associated with cold feet. Warms Cold Feet: L-Arginine, a naturally occurring amino acid, restores temperature to cold feet keeping them warm and healthy. Soothes Foot Discomfort: Improved warmth relieves numbness and discomfort in feet leaving them relaxed and restored. Moisturizes Dry Skin: Nourishing cream, enriched with vitamins and nutrients, penetrates dry skin leaving it soft and comfortable. Taking care of your feet is a very important part of overall health. Increased temperature in the feet of people with diabetes may help to prevent more severe foot complications in the future. Naturally absorbed through the skin, exactly where you need it. Made in USA.
Water, L-Arginine HCl, Potassium Chloride, Sodium Chloride, Magnesium Chloride, Hexahydrate, Mineral Oil Light, Glyceryl Monostearate, Squalane, Cetyl Alcohol, Propylene Glycol Monostearate SE, Wheat Germ Oil, Glyceryl Stearate, Isopropyl Myristate, & Stearyl Stearate, Polysorbate 60, Oleic Acid, Vitamin E Acetate, Collagen Protein, Sorbitan Monostearate, Vitamin A & D Mixture, Triethanolamine, Sodium Benzoate, Oleoresin Capsicum, Aloe Vera Extract, BHA, Hydrochloric Acid, Fragrance.
Simply rub cream into feet for five minutes, liberally covering the entire foot, top and bottom. Apply the cream twice daily, morning and evening, for seven days and then once daily to maintain soft, healthy feet. Store at room temperature.
Keep out of reach of children. For external use only. If swallowed, contact a Poison Control Center. Do not use on open wounds. Avoid contact with eyes or other mucus membranes. If contact occurs, rinse thoroughly with water. Close cap after use.