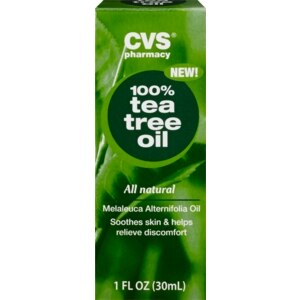 All natural. Melaleuca alternifolia oil. Soothes skin & helps relieve discomfort. Tea tree oil can be used externally as an all-natural, soothing topical agent. It can help relieve skin discomfort when applied to the affected area. A mild tingling or warming sensation may be felt in sensitive areas and is normal. CVS/pharmacy 100% Tea Tree Oil is a powerful, natural oil from the leaves of the melaleuca alternifolia tree, native to Australia. Tea tree oil is commonly used to provide soothing relief to skin, and has many beauty benefits when used topically. It can also be added to lotion, shampoo or conditioner for extra moisture. Tea tree oil can help: soothe skin & help relieve discomfort; smooth and hydrate skin; moisturize and strengthen hair; relieve razor burn & irritation. CVS quality.
Melaleuca Alternifolia (Tea Tree) Leaf Oil 100%.
Apply a few drops to desired area, using fingers or a cotton swab. Use 1-4 times daily.
Keep away from eyes. Use sparingly. If problem persists, seek medical attention. For external use only. Keep out of reach of children. Do not apply to broken or irritated skin or areas affected by rashes. Discontinue use and consult a physician if any adverse reactions occur including skin sensitivity, irritation, rash, itching, redness or swelling. Avoid contact with eyes, nose, mouth, inner ear or other tender areas. In case of accidental ingestion, seek professional assistance or contact a Poison Control Center immediately. Do not ingest. Do not use on children or animals. Flammable: keep away from spark, heat & flame.