|
|
About Nuance Salma Hayek
Nuance Salma Hayek Brand Shop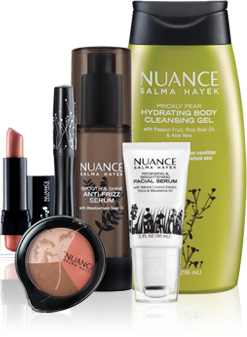 Discover Nuance Salma Hayek, a unique collection that combines exotic ingredients and ancient beauty secrets passed down through generations. The proprietary formulas are created using modern science to provide the most effective results. These products are designed to help every woman enhance the nuances that define her individual beauty.
The Nuance Salma Hayek collection embodies Salma's family heritage. The products represent the fusion of her grandmother's cosmetology training with her own vision of beauty, shaped by years of travel around
the world. Nuance Salma Hayek was conceived for women who seek
high-quality, efficacious beauty products customized to address their personal skincare, body care, haircare and cosmetic needs.
Exclusively at CVS/pharmacy
Select Nuance Salma Hayek products are available in 7,100 CVS/pharmacy stores nationwide and in Puerto Rico. The full line is available on CVS.com. Salma chose CVS/pharmacy because she
wanted a partner that had the ability to work with the best suppliers to produce clinically proven products. "CVS/pharmacy did not limit me to
one lab or one approach," she explains. "They allowed me to explore
and identify the best products. I was involved with the creation of every product in the line."