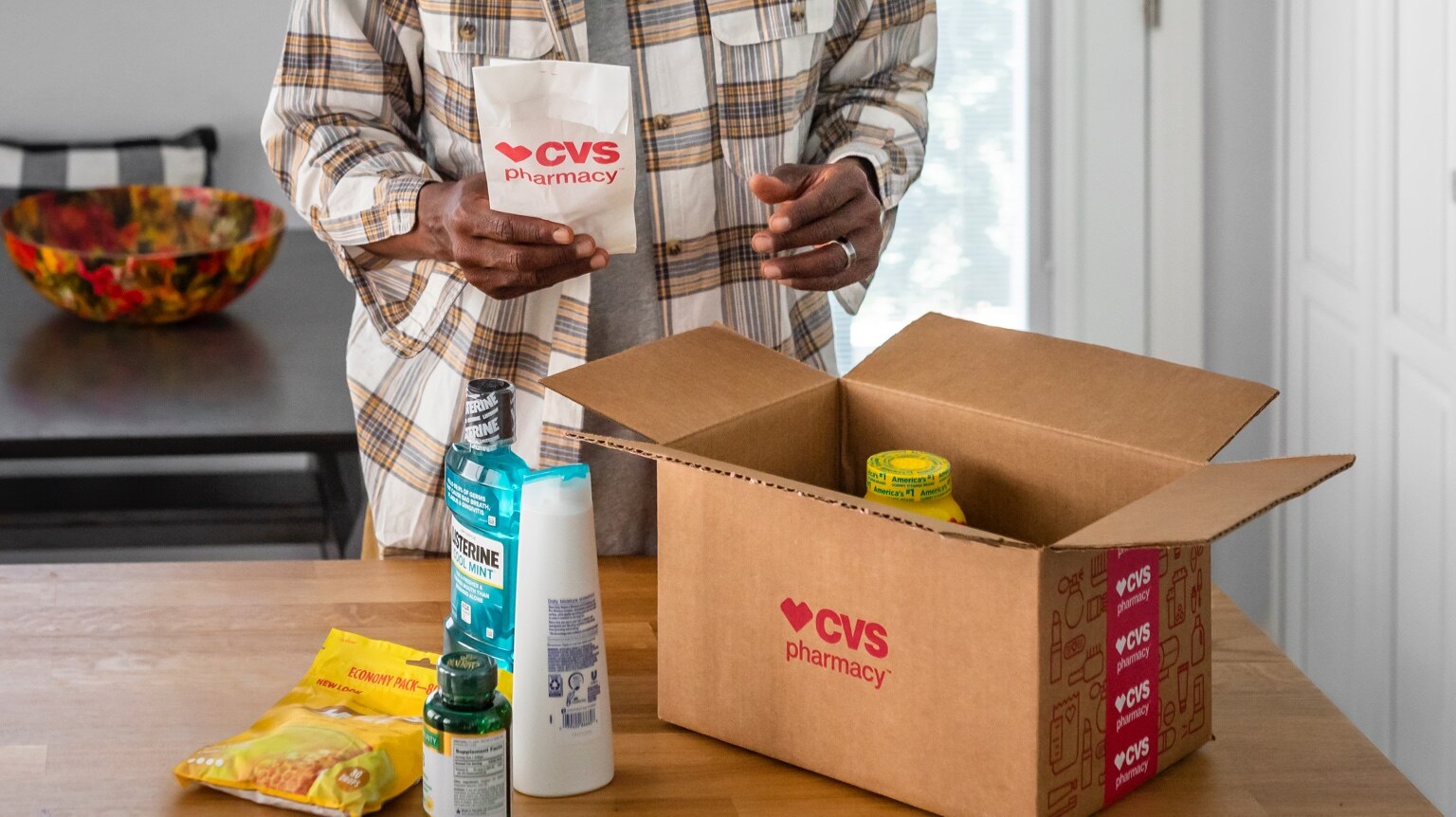 Get FREE delivery of Rx & everyday essentials.

*
This is just one of the ways we can help you to be prepared and stay well.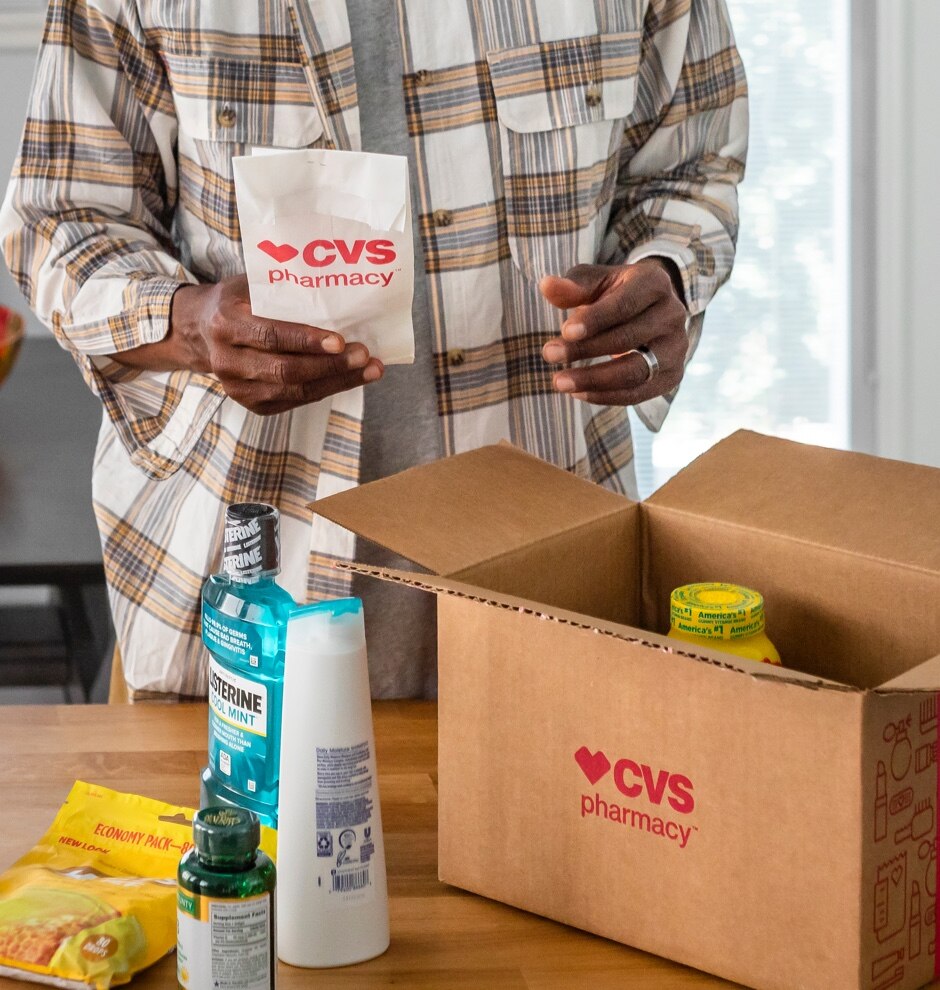 Get it same-day with Instacart
®

.*

Order online

Shop our assortment of beauty, health care, personal care, grocery and household products, and more.

Schedule your delivery

Get your items in as little as an hour, or pick a time that's convenient for you.

Get it delivered to your door

An Instacart personal shopper will bring your order right to you.
Have an Rx and looking to get it delivered same-day? Fill your prescription to get started.
Check out this week's savings at your local CVS Pharmacy
®

.
Easily manage deliveries with our app.
The CVS Pharmacy® app helps you take care of your delivery needs.
Refill your Rx
Check order status
Arrange delivery
Download our app
Want FREE delivery all the time?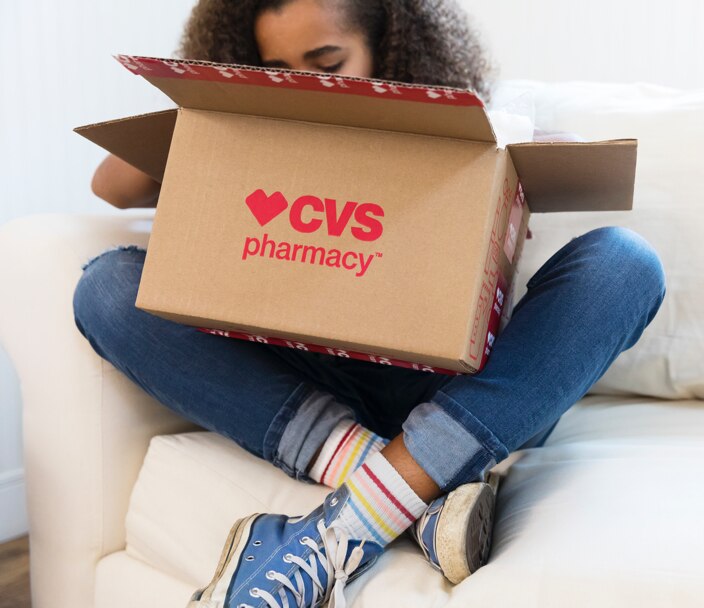 Running out? Get it again with easy reorder.
Please note that curbside pickup is no longer available.
*for free rx delivery offer: Free 1 to 2 day Rx delivery applies to orders until further notice. Delivery is available for eligible prescription drug orders with qualifying prescription benefit programs and insurance plans. Order cutoff times may vary by delivery option and pharmacy location. 1 to 2 day delivery is only available on orders placed Monday through Thursday. Delivery may be subject to delays. Not all delivery options are available to every address or from all pharmacy locations (CVS Pharmacy®, CVS Pharmacy at Target, CarePlus CVS Pharmacy® and Navarro® locations). Delivery fees apply and may vary by delivery option and location. Charges apply to all orders in CTConnecticut, KYKentucky, MDMaryland, MIMichigan, MNMinnesota, NJNew Jersey, NYNew York, OHOhio, PAPennsylvania and VAVirginia. Delivery of select nonprescription items is available with prescription delivery at participating locations. Nonprescription items are not available for delivery from CVS Pharmacy at Target locations. Selection of nonprescription items available may vary for online and in‐store orders. Nonprescription items are charged at online prices, which may vary from store prices. Coupons, ExtraBucks Rewards® or in‐store promotions with delivery may not be used with delivery orders. Online promotions cannot be used nor can ExtraBucks Rewards be earned with orders called into stores. Advance payment by credit, debit, flexible spending account (FSA) or health savings account (HSA) card required. In most cases, FSAflexible spending account and HSAhealth savings account cards may not be used for delivery fees. Other restrictions apply.
*for instacart deliveries: instacart® and the Instacart carrot logo are trademarks of Maplebear IncIncorporated., d/b/adoing business as Instacart. Instacart may not be available in all ZIP or post codes. See Instacart Terms of Service for more details.
*for $10 promo reward: May take up to 72 hours to load to ExtraCare® account. Reward expires on stated expiration date. Cannot be used toward renewal of CarePass™ membership. Only redeemable in participating CVS Pharmacy® locations or online at CVS.com® for merchandise. Minimum $10 purchase (excluding taxes and fees) for CVS.com purchases. Rewards are promotional, have no cash value and are not redeemable for cash. Excludes alcohol, lottery, money orders, prescriptions and copays, pseudoephedrine/ephedrine products, postage stamps, prepaid cards, gift cards, newspapers and magazines, milk (where required by law or regulation), bottle deposits, bus passes, hunting and fishing licenses, any imposed governmental fees and items reimbursed by a government health plan. See CarePass terms and conditions.