Lisinopril
Previous
Next
Most Commonly Used
Lisinopril 2.5mg Tab
Solco Healthcare US LLC

Pill Identification: H 144
Lisinopril 10mg Tab
Lupin Pharmaceuticals, Inc.

Pill Identification: LUPIN | 10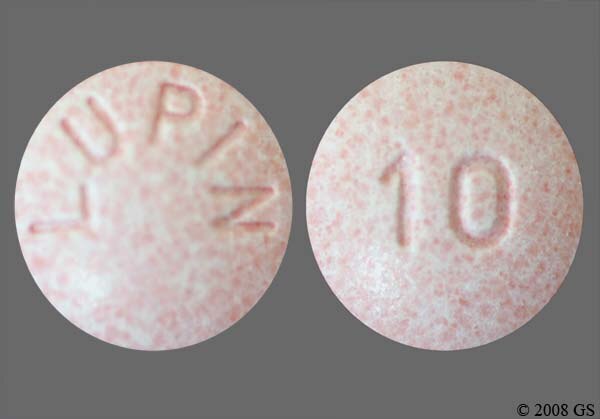 Lisinopril 20mg Tab
Lupin Pharmaceuticals, Inc.

Pill Identification: LUPIN | 20
Lisinopril 2.5mg Tab
Lupin Pharmaceuticals, Inc.

Pill Identification: LUPIN | 2.5
Lisinopril 30mg Tab
Lupin Pharmaceuticals, Inc.

Pill Identification: LUPIN | 30
Also See:

Answers to Frequently-Asked Questions (FAQs)
Other Class Related Drugs
Additional Patient Usage Statistics
Take Action:
Common Side Effects of Lisinopril
Lisinopril may cause side effects. Some are more serious than others. Tell your doctor about any side effect that is severe, worries you, or will not go away. Some common side effects of lisinopril may include:
Cough
Headache
Dizziness
Drowsiness
Stomach upset
Nausea or vomiting
Diarrhea
Mild itching or rash
Depressed mood
Weakness
Sneezing or runny nose
Change in sexual function or desire
There are some serious side effects that you can have with taking lisinopril. Although these are not as common, it is important to contact your doctor, or 911 in an emergency, if you:
Feel light-headed or faint
Have swelling or tingling, especially in the mouth or throat
Have trouble breathing or swallowing
Have chest pain or tightness
Develop fever, chills, body aches, or other flulike symptoms
Feel confused or weak
Pass less urine than usual or not at all
Rapidly gain weight
Show signs of high potassium: slow heart rate, weak pulse, muscle weakness, or tingly feeling
Before taking lisinopril, your doctor will want to make sure that you can take it safely. Talk with your doctor about any medical condition that you may have. Your doctor may want to know if you have had:
Diabetes
Kidney or liver disease
Heart disease
Congestive heart failure
Lupus
Scleroderma
Rheumatoid arthritis
Also talk about all the medicines you take. Some may react with lisinopril. Give your doctor a complete list, including over-the-counter medicines, herbal remedies, and vitamin supplements. Tell your doctor if you have ever had a bad reaction to any medicine.
Do not take lisinopril if you are pregnant. It can hurt the fetus. If you become pregnant while taking lisinopril, tell your doctor right away. If you are breast-feeding, tell your doctor. Your doctor will want to decide if lisinopril is right for you.
If you need any type of surgery while on lisinopril, tell your doctor that you are taking lisinopril. This includes dental surgery. You may need to stop taking lisinopril for a short time.