Prozac
Previous
Next
Most Commonly Used
Prozac 20mg Pulvule
Eli Lilly and Co

Pill Identification: DISTA 3105 PROZAC 20 mg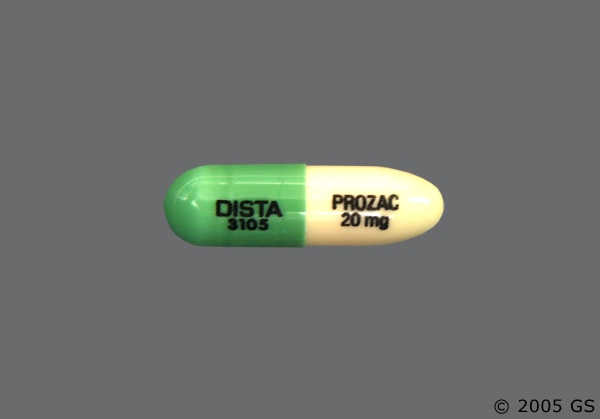 Prozac 20mg Pulvule
Eli Lilly and Co

Pill Identification: DISTA 3105 PROZAC 20 mg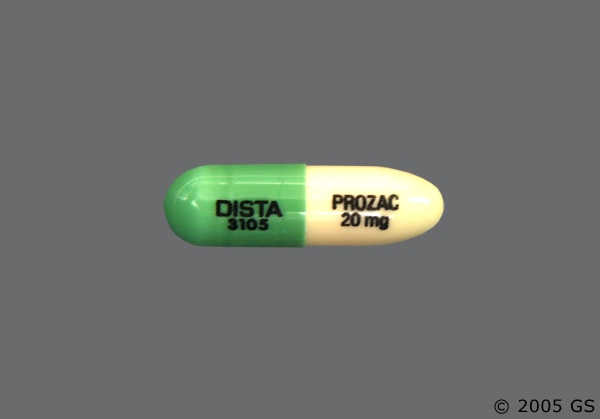 Prozac 40mg Pulvule
Dista Products Co Div Eli Lilly and Co

Pill Identification: DISTA 3107 PROZAC 40 mg
Prozac 10mg Pulvule
Dista Products Co Div Eli Lilly and Co

Pill Identification: DISTA 3104 PROZAC 10 mg
Also See:

Answers to Frequently-Asked Questions (FAQs)
Other Class Related Drugs
Additional Patient Usage Statistics
Take Action:
Common Side Effects of Prozac
Before you start taking Prozac, be sure to tell your doctor if you have any allergies or other medical conditions. Also give your doctor a complete list of any medicines you are taking. Be sure to include over-the-counter medicines or herbal supplements. Some medicines may interact with Prozac. While you are taking Prozac, do not take any other medicines that contain fluoxetine, including Sarafem
®
and Symbyax
®
. Do not take Prozac and Prozac Weekly together.
Also, tell your doctor if you are pregnant, planning to become pregnant, or breast-feeding before starting Prozac. Your doctor will want to decide whether Prozac is the right medicine for you to take during these conditions.
Some people, both adults and children, may become suicidal after starting antidepressant drugs such as Prozac. Tell your doctor right away if you start to have suicidal thoughts or mood changes when you start taking Prozac. Call your doctor right away, or 911 in an emergency, if you have any of the following symptoms or if they are new, getting worse, or are worrying you:
New or worse depression
Thoughts about suicide or dying, or attempts to commit suicide
New or worse anxiety
Feeling very agitated or restless
Panic attacks
Trouble sleeping
New or worse irritability
Acting aggressive, or being angry or violent
Acting on dangerous impulses
An extreme increase in activity and talking
Other unusual changes in behavior or mood
There are additional side effects of Prozac that you should report to your doctor or get emergency medical help for as soon as possible. This list includes:
Allergic reactions, such as skin rash, itching, hives, or swelling of the face, lips, or tongue
Breathing problems
Confusion
Fast or irregular heart rate, or palpitations
Flulike fever, chills, cough, or muscle or joint aches and pains
Seizures
Suicidal thoughts or other mood changes
Tremors
Trouble sleeping
Unusual bleeding or bruising
Unusually tired or weak
Vomiting
Call your doctor if any side effect worsens or does not go away. Some common side effects of Prozac that may happen include:
Change in sex drive or performance
Diarrhea
Dry mouth
Flushing
Headache, blurred vision
Increased or decreased appetite