Synthroid
Previous
Next
Most Commonly Used
Synthroid 100mcg Tab
AbbVie US LLC

Pill Identification: SYNTHROID | 100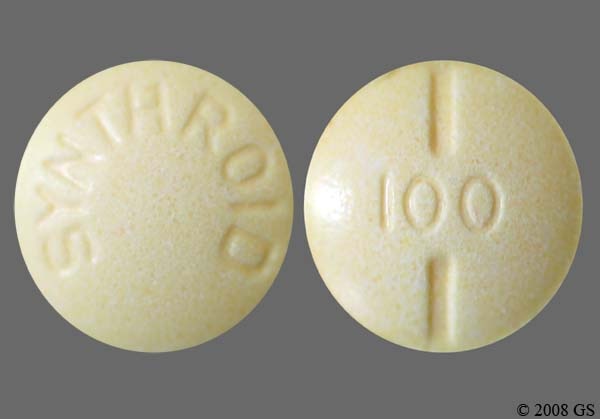 Synthroid 75mcg Tab
AbbVie US LLC

Pill Identification: SYNTHROID | 75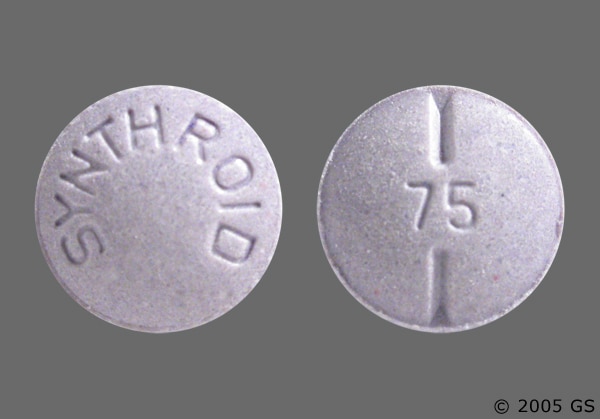 Synthroid 50mcg Tab
AbbVie US LLC

Pill Identification: SYNTHROID | 50
Synthroid 88mcg Tab
AbbVie US LLC

Pill Identification: SYNTHROID | 88
Synthroid 125mcg Tab
AbbVie US LLC

Pill Identification: SYNTHROID | 125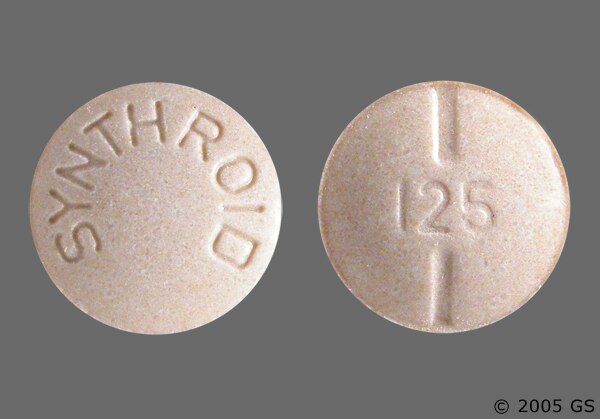 Also See:

Answers to Frequently-Asked Questions (FAQs)
Other Class Related Drugs
Additional Patient Usage Statistics
Take Action:
Common Side Effects of Synthroid
Synthroid replaces a hormone the body makes on its own. Most people can take it safely. However, your doctor will want to know if you have any other medical condition, so he or she can make sure Synthroid is the right medicine for you. These include:
Diabetes
Heart disease, heart attack, or chest pain
Kidney disease
Liver disease
Osteoporosis
Clotting problems
Adrenal or pituitary gland problems
A thyroid condition called thyrotoxicosis
Tell your doctor if you are pregnant or breast-feeding. If you become pregnant while taking Synthroid, notify your doctor. Synthroid is generally considered safe during pregnancy and is not known to harm a nursing baby, but your doctor may need to adjust your Synthroid dose.
If you have diabetes, talk to your doctor about how Synthroid might affect your blood sugar levels. Your doctor may want to make adjustments to your diabetes medicines and ask that you monitor your blood sugar levels closely.
Synthroid can sometimes cause interactions with other medicines. These include over-the-counter medicines, such as antacids. Tell your doctor about any medicine you take, including over-the-counter medicines, herbal supplements, vitamins, and other supplements. Your doctor will want to know about any medicine that you take.
Synthroid can cause some side effects. If any side effect of Synthroid is severe, is worrying you, or does not go away, let your doctor know right away. Some side effects when taking Synthroid include:
Fatigue
Changes in appetite, weight loss, or weight gain
Tremor or shakiness
Headache
Nausea or vomiting
Diarrhea, vomiting, or stomach cramps
Nervousness or irritability
Trouble sleeping
Excessive sweating
Fever
Changes in menstrual cycle
Sensitivity to heat
Temporary hair loss
This is not a complete list of side effects of Synthroid. Talk with your doctor about these or any side effects you notice while taking Synthroid.
More serious symptoms may require immediate care. Get help right away for more serious signs such as:
Chest pain (angina)
Fast or irregular heartbeat
Signs of an allergic reaction: hives; trouble breathing; swelling of the face, neck, mouth, or tongue