1-Day Acuvue TruEye With Hydraclear | 90 pack
$92.79
20% off lenses
Regular price $115.99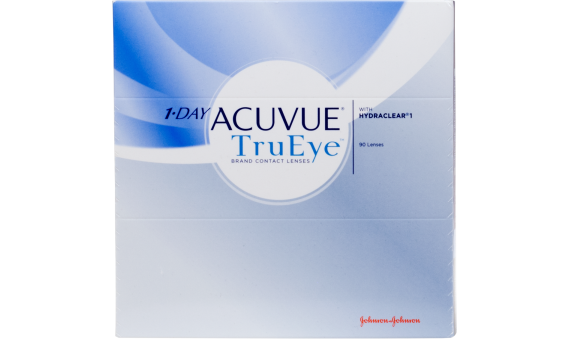 Details
Lens type: Daily disposable soft contact lenses.
Package details: 90 lenses in buffered saline with methyl ether cellulose.
Material and % of content: 54% narafilcon A.
Water % of content: 0.46
Manufacturer: Johnson & Johnson
Description
A Convenient Pick
Want to make the switch to contacts but want to avoid daily lens care tasks? 1-Day Acuvue TruEye With Hydraclear lenses provide an ideal solution. These contact lenses are only worn for one day, making them easy to care for. Since you will simply throw your contacts out at night, you won't ever have to worry about cleaning or storing them. One-day disposables also provide a healthy choice of lens for your eyes, as they do not develop protein deposits due to repeated wear.
Innovative Design
With 1-Day Acuvue TruEye With Hydraclear lenses, you can reap the benefits of contacts for vision correction without feeling like you are even wearing contacts. The experts behind the brand have pioneered an innovative design that makes the lenses virtually undetectable. Thanks to this technology, the lenses fit optimally between your eyelid and the clear covering over your eye called the cornea for a superior fit.
Able to Deliver Long-Lasting Hydration
1-Day Acuvue TruEye With Hydraclear lenses are contacts that you can wear all day and enjoy clear vision and comfortable eyes. The lenses boast HYDRACLEAR technology, an embedded material that acts like substances in your natural tears. HYDRACLEAR reduces friction while helping the lenses stay hydrated through hours of wear.
UV-Blocking Technology
All day long, 1-Day Acuvue TruEye With Hydraclear lenses help to shield your eyes from ultraviolet energy. The lenses block roughly 96.1 percent of all UVA and 99.9 percent of all UVB for sun protection. UV-blocking sunglasses are still recommended for long periods of time outdoors.