1-Day Acuvue TruEye With Hydraclear | 30 pack
$43.19
20% off lenses
Regular price $53.99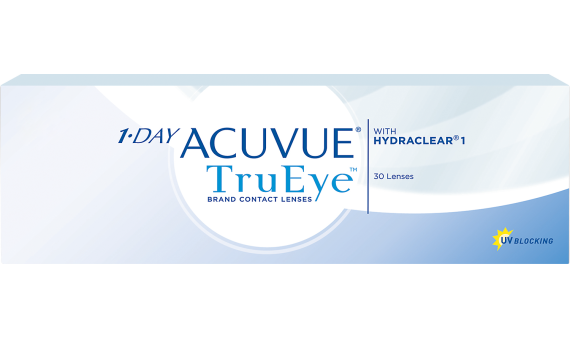 Best deal on this product: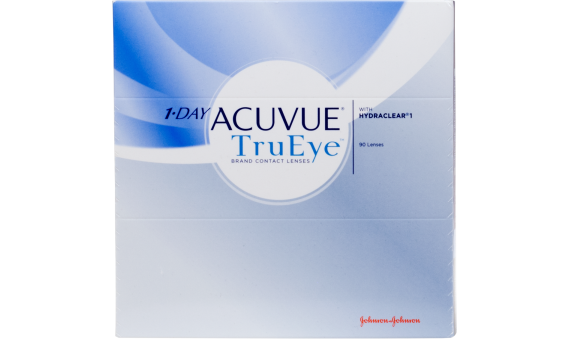 1-Day Acuvue TruEye
(90 lenses / box)
Details
Lens type: Daily disposable soft contact lenses.
Package details: 30 lenses in buffered saline with methyl ether cellulose.
Material and % of content: 54% narafilcon A.
Water % of content: 0.46
Manufacturer: Johnson & Johnson
Description
If you're concerned with comfort when it comes to your contact lenses, the 1-DAY ACUVUE® TruEye® lenses offer amazing comfort and lightweight wear. These versatile lenses will make it feel as if you're not wearing any contact lenses at all. The revolutionary Hydraclear Technology helps your eyes maintain a constantly lubricated surface. The result is that you'll no longer experience dry eye or need to apply eye drops throughout the day. The extra moisture delivers unparalleled comfort that makes it feel like you're not wearing lenses whatsoever.
With sustained moisture and oxygen flow to your eyes, you'll feel much better every day whenever you insert 1-DAY ACUVUE® TruEye® lenses. The silicone hydrogel material is extremely comfortable and helps to keep your eyes safe. UV protection also prevents your eyes from sustaining damage from excess sun exposure. You won't need to worry about the sun's harmful UVA and UVB rays any longer with 1-DAY ACUVUE® TruEye® lenses since they offer the highest level of UV protection available.
Thanks to an innovative design, these contact lenses are perfect for people who want lightweight and easy vision correction. They're available with correction prescriptions for both near and farsighted conditions. The lubricated surface has been clinically shown to deliver unparalleled comfort. Once-per-day wear means you can simply dispose of your pair at the end of the day and insert a new one each morning. Avoid the hassle of constantly having to worry about cleaning and sanitizing your contacts with the 1-DAY ACUVUE® TruEye® lenses.