Acuvue Vita | 12 pack
$93.59
20% off lenses
Regular price $116.99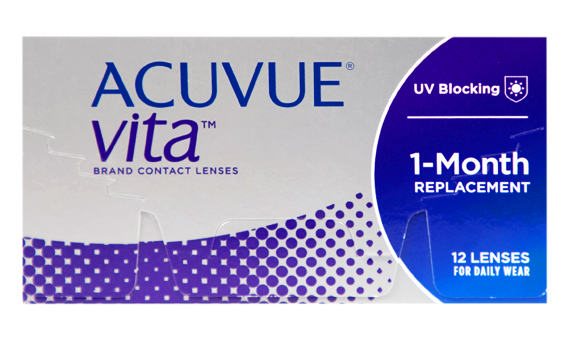 Details
Lens type: Monthly disposable soft contact lenses.
Package details: 7 contact lenses in buffered saline containing methyl ether cellulose
Material and % of content: Methyl ether cellulose
Water % of content: 0.41
Manufacturer: Johnson & Johnson
Description
If you're currently experiencing discomfort from your contact lenses, give the ACUVUE® VITA™ lenses a try. These monthly lenses will help you stay comfortable and you won't need to be worried about using rewetting drops or taking breaks to remove your lenses to get relief from discomfort. If that scenario sounds familiar, it's likely an issue with your current lenses. Experience a truly revolutionary breakthrough in vision correction with ACUVUE® VITA™ lenses. You'll get consistent comfort all month long, even in challenging environments.
Thanks to the INFINITY EDGE™ design and HydraMax™ technology, these contact lenses offer exceptional moisture delivery. They maintain and maximize hydration throughout the entire lens. That means you get superior, reliable comfort from week one all the way to week four. And, since they feature a monthly wear format, you can enjoy them all month without having to worry about cleaning and sanitizing your lenses. Simply discard the old pair at the end of 30 days and replace them with a new one.
The sun can cause serious damage to our eyes. With too much sun exposure, you can experience symptoms like headaches and vision problems. With ACUVUE® VITA™ contact lenses, your eyes are protected from almost 100 percent of the harmful UVA and UVB rays coming from the sun. Whether you enjoy being outdoors or have an extremely busy lifestyle, choose lenses that will give you the perfect combination of comfort, clarity of vision, and protection. Talk to your eye doctor about a prescription for ACUVUE® VITA™ contact lenses today.