Acuvue Oasys for Presbyopia | 6 pack
$49.59
20% off lenses
Regular price $61.99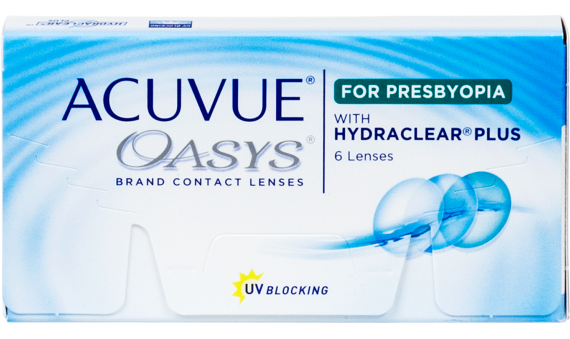 Details
Lens type: 1-2 week disposables for presbyopia
Package details: 6 lenses in buffered saline with.005% methyl ether cellulose
Material and % of content: 62% senofilcon A
Water % of content: 0.38
Manufacturer: Johnson & Johnson
Description
If you're constantly on the go, try ACUVUE OASYS® for Presbyopia to get the vision correction you need. As you age, your eyes tend to have more difficulty focusing on things that are up-close. This common condition is known as presbyopia, and ACUVUE OASYS® for Presbyopia lenses can make life easy. These lenses feature unique HYDRACLEAR PLUS technology that helps them stay comfortable and smooth so you feel like you're not even wearing them. These multifocal lenses will give you a balanced vision at any distance. Whether you're reading a favorite novel or texting on your phone, choose these advanced contact lenses to provide you with amazing clarity of vision.
The special moisturizing technology of ACUVUE OASYS® for Presbyopia contact lenses mixes the wetting agent into the contact lens formula itself, which helps them work in harmony with the natural moisture in your eyes. They are created with digital-device use in mind, making them the perfect choice for adults who spend a lot of time on their computers, tablets, and smartphones. Get rid of the annoying eye drops and symptoms of dry eye with these amazingly comfortable lenses. They're made to work the way your tears work, ensuring that you get comfortable wear every single day.
With ACUVUE OASYS® for Presbyopia lenses, you'll get amazing sun protection, too. These contacts block up to 90% of UVA and up to 99% of harmful UVB rays. A combination of unique optical design and exceptional comfort results in balanced vision whether near, far or in-between. Pair that with remarkable comfort, and you've got lenses that are perfect for your busy lifestyle. Talk to your eye care professional about ACUVUE OASYS® for Presbyopia contact lenses.