Acuvue Oasys With Hydraclear Plus | 12 pack
$63.19
20% off lenses
Regular price $78.99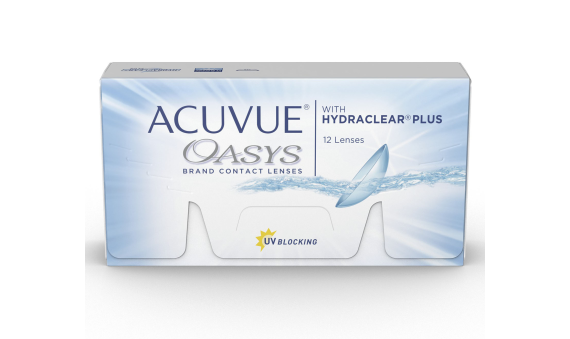 Best deal on this product: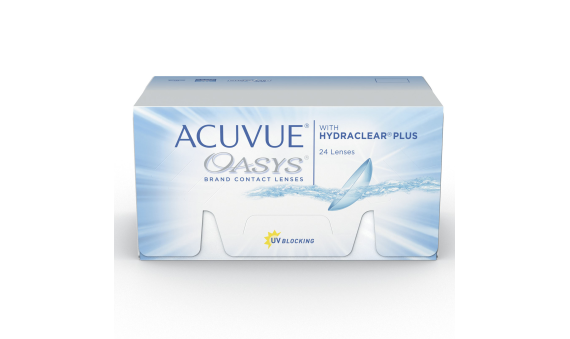 Acuvue Oasys
(24 lenses / box)
Details
Lens type: 1-2 week soft disposable contact lenses
Package details: 12 lenses in buffered saline with methyl ether cellulose
Material and % of content: 62% polymer (Senofilcon A)
Water % of content: 0.38
Manufacturer: Johnson & Johnson
Description
Convenient Replacement Schedule
With Acuvue Oasys With Hydraclear Plus contact lenses, you benefit from disposable convenience. Every one to two weeks, you'll replace your lenses with a fresh pair. Biweekly contacts like Acuvue Oasys provide cost savings compared to daily contacts and eliminate the need for periodic deep cleaning that is required for non-disposable contacts. Plus, disposable contacts greatly reduce the risk of protein buildup that can contribute to infections and diminish vision quality. This pack contains 12 lenses, giving you a six-week supply with biweekly replacements.
Designed for Your Comfort
One of the most common complaints among contact wearers is that over the course of the day, their lenses become less and less comfortable. This problem is associated with dryness that develops as you blink. Acuvue Oasys With Hydraclear Plus contact lenses are engineered to address this problem. Hydraclear Plus technology forms a stable tear film over the surface of the lenses to hold in more moisture during the day. This greatly lowers the likelihood of discomfort associated with dryness. Acuvue Oasys With Hydraclear Plus were found to be the most comfortable brand of contacts of their type across 20 clinical studies and are the number one prescribed brand for new contact lens wearers.
Sun Protection Built In
With Acuvue Oasys With Hydraclear Plus contact lenses, you get the benefits of the highest levels of UV protection available in disposable contacts. Regular wear helps to defend your eyes against long-term damage due to ultraviolet exposure; however, you should still wear UV-protective sunglasses when you'll be outdoors for extended periods of time.