Acuvue Vita | 6 pack
$56.24
(per box after discount)
Reg:

$74.99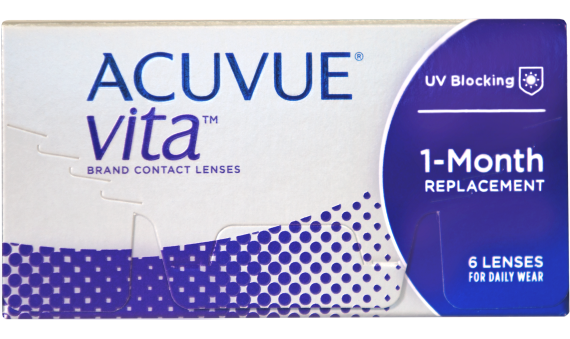 Best deal on this product: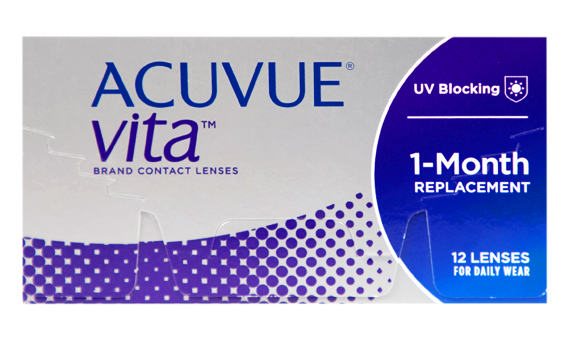 Acuvue Vita
(12 lenses / box)

Details
Lens type: Monthly disposable soft contact lenses.
Package details: 6 contact lenses in buffered saline containing methyl ether cellulose
Material and % of content: Methyl ether cellulose
Water % of content: 0.41
Manufacturer: Johnson & Johnson
Description
Experience a full month of superior comfort with the ACUVUE® VITA contact lenses. These revolutionary lenses provide comfortable wear for an entire month, even in challenging environments. It's all thanks to the lens' INFINITY EDGE™ design and HydraMax™ technology. The lenses also use UV blocking to protect your eyes from the sun's harmful UVA and UVB rays. Get exceptionally clear vision and comfortable wear with these versatile lenses.
The ACUVUE® VITA contact lenses are available for patients with a variety of conditions. Whether you're nearsighted, farsighted, or you have astigmatism, talk to your eye doctor today about a prescription for ACUVUE® VITA lenses. The moisturizing technology maximizes and maintains moisture and lens hydration all month long. Get rid of those pesky and annoying eye drops and get relief from dry eye with these comfortable lenses. Your eyes will be healthier and you'll experience clearer vision throughout the day and night. Plus, the monthly wear allows you to enjoy them for a full 30 days before having to replace them with a new pair.
Don't settle when it comes to your contact lenses. Try the ACUVUE® VITA lenses today if you need something comfortable, versatile, and effective. Compared to competitor brands, these lenses are more comfortable all month long and will even be as comfortable as they were on week one as they are on week four. Live life uninterrupted by distractions or eye irritation with these versatile ACUVUE® VITA contact lenses featuring a monthly replacement schedule.
ACUVUE® brings you the truly revolutionary contact lens, ACUVUE® VITA™. This monthly lens maintains comfort all month long while you wear them, even in challenging environments, thanks to its INFINITY EDGE™ design and HydraMax™ Technology. Plus, Vita uses UV blocking to protect your eyes from 93.4% of UVA and 99.8% of UVB rays.
See all Acuvue products.
Shop by Lens Type