Biofinity Multifocal D | 6 pack
$79.49
(per box after discount)
Reg:

$105.99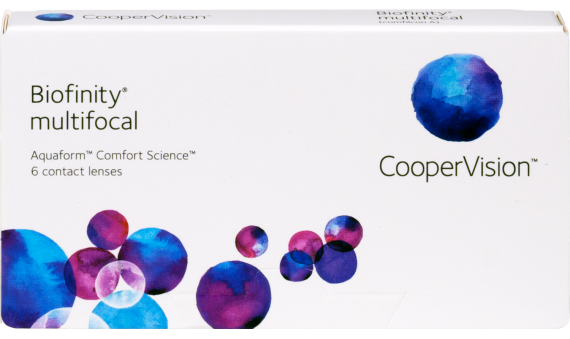 Details
Lens type: Monthly disposable multifocal soft contact lenses
Package details: 6 tinted soft contact lenses in buffered saline
Material and % of content: 52% comfilcon A
Water % of content: 0.48
Manufacturer: CooperVision
Description
Designed for Presbyopia
If you're finding it more and more difficult to read fine print and perform close-up work with your contact lenses in, you may be suffering from presbyopia. This common condition stems from changes to the lens of your eye that take place as you age. Biofinity Multifocal contact lenses help to address this problem and give you crystal clear vision whether you're looking at objects at close-up , intermediate, or far distances. To achieve this complete vision correction, the lenses feature Balanced Progressive technology with multiple zones of power across each lens. On this page, you'll find the Biofinity Multifocal D lenses that you wear in your dominant eye. You'll also need to purchase Biofinity Multifocal N for your non-dominant eye, and you can find them here at CVS.
Extended Wear to Fit Your Life
For those frequently on the go, Biofinity Multifocal D contacts simplify lens wear and care. These extended wear contacts can be kept in place for up to seven days and six nights. Whether you just can't find the time for daily lens care or just forget to remove your contacts at night, the extended wear design can easily fit into your lifestyle. One Biofinity Multifocal D lens can be used for up to one month. Then, you throw the lens away and replace it with a fresh one.
Aquaform for Your Comfort
With Biofinity Multifocal D contacts, you can get complete vision correction all day and have comfortable eyes. The lenses feature Aquaform technology to increase oxygen levels and hold onto more moisture during the day.
Biofinity® Multifocal is a high-performing, silicone hydrogel monthly lens for people suffering from presbyopia. This lens combines two unique technologies: Aquaform Comfort Science lens material makes for a breathable comfort fit all day long. Balanced Progressive Technology multifocal lens design provides excellent, comfortable adjustment at any distance.
See all Biofinity products.
Shop by Lens Type
Related Articles