Biomedics Toric | 6 pack
$44.99
(per box after discount)
Reg:

$59.99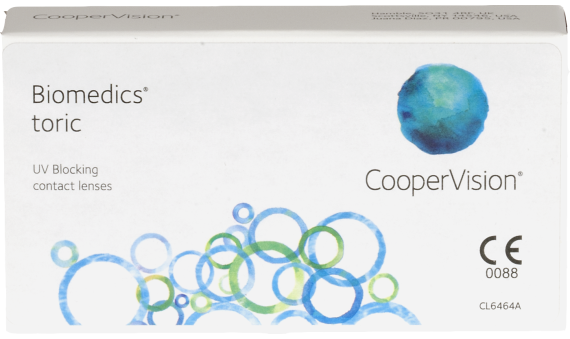 Details
Lens type: 1-2 week disposable soft contact lenses
Package details: 6 lenses immersed in buffered saline solution
Material and % of content: 45% polymer (ocufilcon D)
Water % of content: 0.55
Manufacturer: CooperVision
Description
Astigmatism occurs when the cornea or lens of your eye is stretched into an irregular shape. When this happens, words and images can appear blurry resulting in less than optimal vision. If you're looking for an effective way to correct your astigmatism, consult with your eye doctor and consider the Biomedics® Toric contact lenses from CooperVision. These lenses offer you crisp, clear vision that lasts all day. The thin patented chiseled edge allows for comfortable wear and exceptionally stable toric contact lens performance.
The Biomedics® Toric lenses use hydrogel technology and feature a simple two-week replacement schedule. At the end of two weeks of wear, simply discard them and replace them with a brand-new pair. You'll experience excellent visual accuracy and long-lasting comfort throughout the two-week period. Whether you have astigmatism in one eye or both eyes, the Biomedics® Toric from CooperVision can help. Make sure you speak with your eye care professional so they can make a diagnosis and give you a prescription.
Astigmatism can cause your eyesight to be blurry and less than perfect. Thankfully, there's a way to correct the problem without eyeglasses thanks to the Biomedics® Toric contact lenses. With their thin design and unique shape, they provide you with stable comfort that lasts all day, every day. Experience clearer, more crisp vision with these high-quality lenses. Don't let your astigmatism get in the way of your ability to enjoy life. Try these contact lenses and get the vision you deserve along with the comfort you need.
Biomedics® Toric is the standard for hydrogel lens for astigmatism patients. This lens provides crisp and clear vision all day long. Due to its thin, patented edge and extremely stable toric contact lens performance, it provides excellent visual accuracy and lasting comfort.
See all Biomedics products.
Related Products
Shop by Lens Type
Related Articles