Biotrue ONEday for Presbyopia | 30 pack
$34.82
(per box after discount)
Reg:

$46.42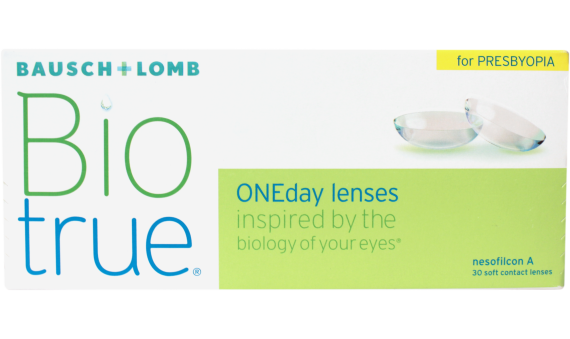 Best deal on this product: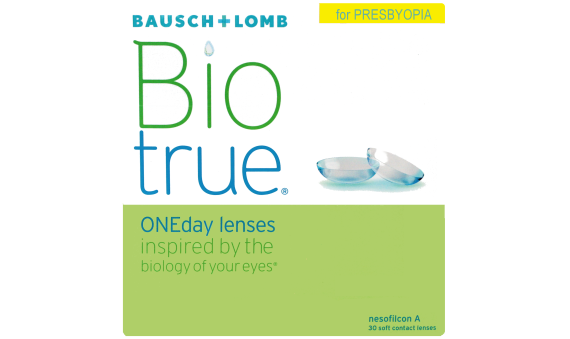 Biotrue ONEday Presbyopia
(90 lenses / box)

Details
Lens type: Daily disposable soft contact lenses
Package details: 30 contacts lenses immersed in a solution of borate buffered saline
Material and % of content: nesofilcon A
Water % of content: 0.78
Manufacturer: Bausch & Lomb
Description
Presbyopia is a common condition that largely affects adults over the age of 40. As we get older, our eyesight starts to lessen, which can make it more difficult to see things that are either far away or up close. That's why you need the revolutionary design of Biotrue® ONEday for Presbyopia contact lenses to help you get the clarity of vision you need. These lenses feature a unique, 3-way progressive design that makes it easier to see things up close, at long distances, or at an intermediate distance no matter what you're doing. Ditch the readers and bifocals and choose Biotrue® ONEday for Presbyopia lenses instead.
When you need clearer eyesight, these lenses offer you a better view. Not only will you enjoy their lightweight feel, but you'll also love the convenience of having them available in a daily disposable format. At the beginning of your day, simply insert a brand-new pair and discard them in the evenings. You won't need to worry about the hassle of cleaning, sanitizing, and transporting your contact lenses any longer.
The soft construction of the Biotrue® ONEday for Presbyopia contact lenses provides you with all-day comfort. And, these lenses are made by Bausch & Lomb, a brand you know and trust. Don't worry about dealing with dry eyes since these contacts maintain 98-percent of their moisture for up to a total of 16 hours per wear. They also feature UVA and UVB protection to protect your eyes from harmful UV rays. Experience the perfect combination of comfort, convenience, and precision with these Biotrue® ONEday for Presbyopia contact lenses from Bausch & Lomb.
Biotrue® ONEday for Presbyopia provides an innovative solution for those suffering with presbyopia. A 3-zone Progressive design to help you see close up, at intermediate or long distances, all while providing a comfort fit all day long.
See all BioTrue products.
Shop by Lens Type