DAILIES Total1 Multifocal | 90 pack
$149.99
(per box after discount)
Reg:

$149.99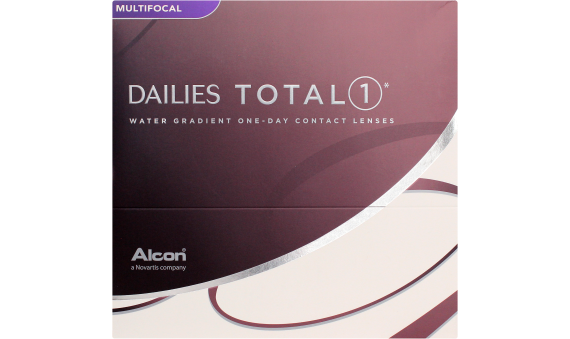 Details
Lens type: Daily disposable soft contact lenses
Package details: 90 sterile, single use, daily wear soft contact lenses with phosphatidylcholine, in buffered saline with polmeric wetting agents
Material and % of content: delefilcon A 67%
Water % of content: 0.33
Manufacturer: Alcon
Description
DAILIES TOTAL1 Multifocal 90 pack contact lenses are the first and only water gradient contacts for patients with presbyopia. These daily disposable contacts are designed specifically to make your life easier while providing you with the vision care you need. The 90 pack of DAILIES TOTAL1 Multifocals are made up of 45 pairs of single-use, daily soft wear contacts with phosphatidylcholine in buffered saline with polymeric wetting agents.
That means you don't need to keep contact lens solution with you, and there are no messy containers to keep track of. Instead, put the contacts in each day when you're ready to face the world and remove them at the end of the day, disposing of them. No need to clean and wash them. Just remove and go.
The gradient feature provides you with an ultra-smooth surface for all-day comfort and clear views. No need for bifocals or reading glasses, either, thanks to the seamless transition for any distance.
See all DAILIES products.
Related Products
Shop by Lens Type