Ultra Contact Lenses With MoistureSeal | 6 pack
$48.59
(per box after discount)
Reg:

$64.79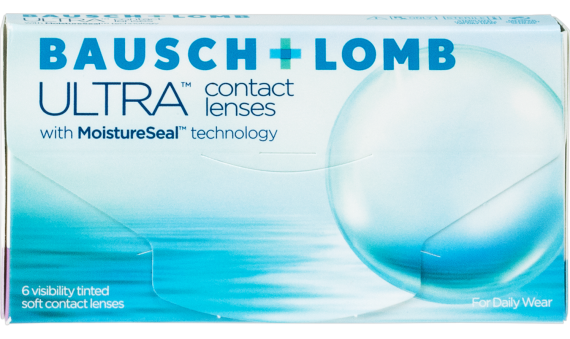 Details
Lens type: Monthly disposable soft contact lenses
Package details: Six lenses in buffered saline solution
Material and % of content: 54% samfilcon A
Water % of content: 0.46
Manufacturer: Bausch & Lomb
Description
The Causes of Discomfort
Do you find it difficult to wear your contact lenses all day long? If so, you're not alone. Discomfort is one of the leading reasons why people give up contact lenses and return to conventional eyeglasses for vision correction. Often, discomfort is related to dryness of the eyes. When water evaporates from contacts during the day, the lens material can shrink and stiffen, leading to friction that results in redness, stinging, and tiredness of the eyes. Using computers and mobile devices can exacerbate this problem by causing you to blink less.
A Solution for All-Day Comfort
Ultra Contact Lenses With MoistureSeal lenses are designed for individuals who struggle to wear contacts due to problems related to dryness. The contacts feature MoistureSeal technology not found in other lenses on the market. Thanks to MoistureSeal, the lenses hold up to 95 percent of their water content for up to 16 hours, meaning you can wear your lenses for longer with less risk of irritation.
Exceptional Vision
Whether you are nearsighted or farsighted, Ultra Contact Lenses With MoistureSeal can help you to enjoy crisp, clear vision by day and by night. The contacts are produced with cutting edge digital technologies to ensure your prescription is correct. Thanks to MoistureSeal technology, the lenses remain hydrated throughout wear, so your vision is unlikely to become blurred due to dryness.
Monthly Convenience
With Ultra Contact Lenses With MoistureSeal, you wear one lens for a full month and then throw it away. The replacement schedule is easy to follow, and one box gives you a six-month supply of lenses.
Experience consistently clear vision with all-day comfort and  with the Bausch + Lomb ULTRA™ contact lenses. These contact lenses feature MoistureSeal Technology which helps maintain 95% of lens moisture for a full 16 hours. MoistureSeal help fight these symptoms with the following key features and benefits:
MoistureSeal technology helps keep your eyes free from dryness
Retain moisture for a full 16 hours
Great vision and comfort will using digital devices
See all Bausch and Lomb ULTRA products.
Shop by Lens Type