Showing 1-18 of
18 products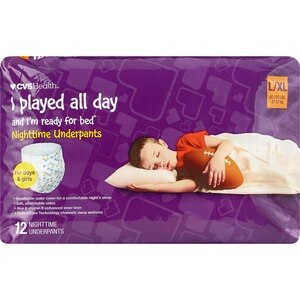 CVS Health Night Time Underpants L/XL, 12 CT
CVS Health
Limit 6 per order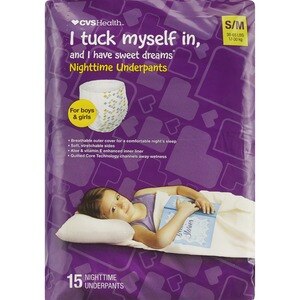 CVS Health Sleep Comforts Night Time Underpants S/M, 15 CT
CVS Health
Limit 6 per order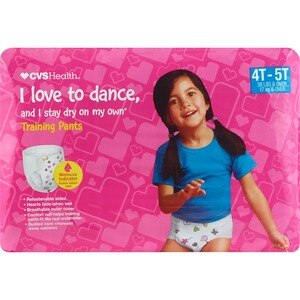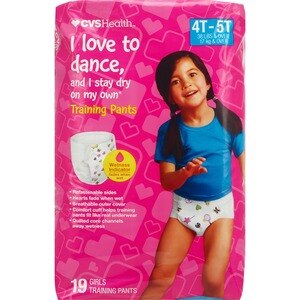 CVS Health Training Pants For Girls 4t-5t 38+ Lbs Case, 19 CT
CVS Health
Limit 4 per order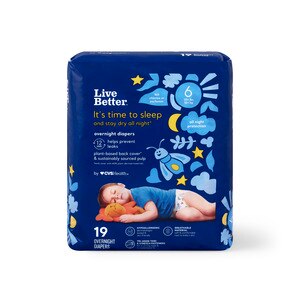 CVS Health Overnight Diapers Size 6, 19 CT
CVS Health
Limit 4 per order
CVS Health Training Pants For Girls 3t-4t, 23 CT
CVS Health
Limit 2 per order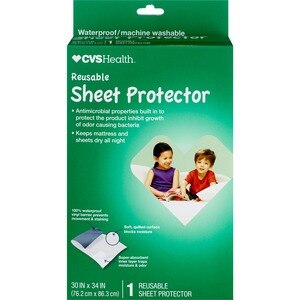 Prices may vary from online to in store.
Bed Wetting Products
As a parent, dealing with bed wetting can be frustrating and challenging. However, many kids and families deal with this issue, and it's not quite as uncommon as some parents might think. Approximately five million children in the United States will deal with bed wetting at some point in their lives. The problem becomes less of an issue as kids get older, and there are some things you can do to help make bed wetting a less traumatic and uncomfortable experience.
Bed Wetting In Older Child
Children who wet their bed are likely not dealing with a serious medical problem, but that doesn't make it any less difficult to cope. When kids wet the bed, it can make things like sleepovers and staying out of town an embarrassing experience. Most children who wet the bed have a small bladder that causes them to urinate more often during the day, and hold less urine when they're sleeping. Other kids may simply sleep through the night, unaware of the need to get up and use the bathroom. Less than three percent of kids wet their bed due to an underlying medical problem, such as sickle cell disease, diabetes, or a urinary tract infection.
How To Stop Bed Wetting
There are things you can do to help make bed wetting easier for your child. First, look for absorbent underwear that your child can wear overnight while they sleep. This disposable underwear will make clean up easier, reducing your frustration and their stress, too. Try to keep your child from drinking anything before bedtime, and make sure they use the restroom before they go to sleep to help empty the bladder. There are some prescription medications that may help to reduce or eliminate bed wetting, so if the issue continues for an extended period of time, it might be best to talk with your pediatrician. With the right products, some patience, and time, most children will discover that bed wetting is soon a thing of the past.
Related Searches
baby oil
,
baby cotton swabs
,
baby creams
,
diaper rash treatments
,
baby lotion
,
baby powder