How to get it
Pickup not available
Change store
Showing 1-15 of
15 products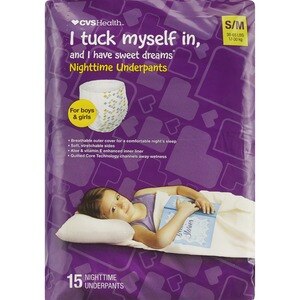 CVS Health Sleep Comforts Night Time Underpants S/M, 15 CT
CVS Health
CVS Health Training Pants For Girls 3t-4t, 23 CT
CVS Health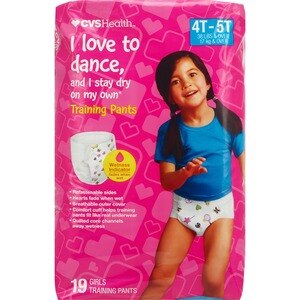 CVS Health Training Pants For Girls 4t-5t 38+ Lbs Case, 19 CT
CVS Health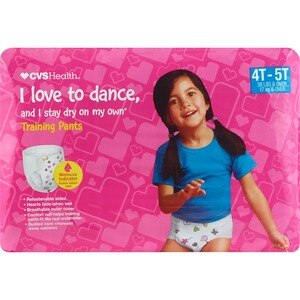 Prices may vary from online to in store.
Training Pants
Sometime between the ages of 22 and 36 months, most children are ready to begin transitioning from diapers to the potty. If your child is showing signs that it may be time to begin potty training, there are steps you can take to help make the process easier. Training pants are one simple way you can ease your child through the transition. At CVS, you'll find a diverse assortment of training pants in various sizes and styles. Explore the selection online, make a purchase, and you can have your order shipped right to your door.
Potty Training Underwear
Training pants are diapers that are developed with the needs of older children in mind. Like conventional diapers, training pants have side tabs that allow parents to lay their children down for diaper changes; however, training pants can also be pulled on and off just like underwear. The design makes it possible for kids to become accustomed to using the potty while preventing leaks and messes when accidents occur.
Toddlers Training Underwear
As you shop for training pants, you'll want to keep absorbency levels in mind. The absorbency tells you how much fluid and waste a diaper can hold until it leaks. Most training pants have a standard absorbency that makes them as effective as conventional diapers. Overnight options are available to provide extra protection when children may be too sleepy to realize they need to go to the bathroom. Some children may continue to need overnight training pants even after they are potty trained.
Training Pants Size
Size is another important consideration when shopping for training pants. Each brand has its own sizing system, so it's important to read the product descriptions to determine which size is right for your child. Sizing may be based on children's clothing size with labels like 2T, 3T, 4T, and 5T. Alternatively, brands may offer Small, Medium, and Large sizing systems determined by weight.
Best Training Pants For Toddlers
Once you have focused on the right absorbency and size for your child, you can compare other features of training pants. Many brands offer products specifically for boys and girls. Boys training pants are often more absorbent in the front, while girls training pants typically have extra absorption material in the middle of the groin area. Training pants usually have playful designs, giving you the freedom to choose an option that will appeal to your child.
When to Start Potty Training
When deciding on when to start the process of potty training with your child, consider a few things: if they have any interest in it, how old they are, and if they are comfortable enough with using the toilet. While eventually every child has to learn to use the bathroom, they must be ready so the experience doesn't become traumatic.
How to Start Potty Training
Luckily there are many different tools for you to use when introducing your child to potty training. Be sure you are helping your child make the connection between the urge to go to the bathroom and using the potty to do so. Help them understand words that are associated with using the bathroom, such as potty, flushing, and toilet. You should also introduce your child to products such as pull-ups. These will come in handy when learning potty training because they are disposable and will make any accident that happens easy to clean up.
Potty Training Tips
Here are a few more tips on beginning to potty train. You should work on stocking up on all the supplies you will need, decide on whether or not you will choose to implement rewards for using the potty correctly, and of course, make sure your child is truly ready to start potty training. Being sure your toddler is ready to start is possibly the most important part of potty training so that it doesn't become more difficult than it needs to.
Related Searches
baby powder, baby sunscreen, bed wetting, diapers, swim diapers, toilet training