Showing 1-4 of
4 products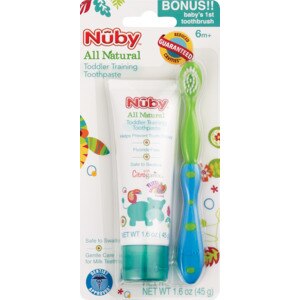 Nuby Citroganix All Natural Toddler Training Toothpaste Tutti Frutti, 1.6 OZ
Nuby
Prices may vary from online to in store.
Baby Toothpaste
Toothpaste is an essential part of your daily oral hygiene. However, it's recommended to use toothpaste specifically designed for babies because adult formulas have unsuitable ingredients for young children. At CVS Pharmacy®, you can find a wide selection of baby toothpaste that safely cleans the tiny teeth of your little ones.
What Is the Best Baby Toothpaste?
With so many options available on the market, it can be challenging to find the best toothpaste for your baby's oral health. Consider the following factors when choosing the best baby toothpaste:
ADA Seal - Look for an ADA seal when trying to find the best baby toothpaste. The American Dental Association (ADA) approves products that are evaluated objectively for safety. Usually, you can see this seal on the tube and box.

No harsh abrasives - Most toothpaste products advertised on the market as whitening products contain harsh abrasives that damage the tooth enamel of younger children.

Fluoride - Fluoride is a natural mineral and is a crucial ingredient in many toothpaste products on the market. This ingredient is effective in reducing tooth decay and cavities. However, this shouldn't be swallowed because too much can cause dental fluorosis in young children. That's why when picking the best baby toothpaste, look for fluoride-free products. They can use fluoride toothpaste later on when they have learned to spit the toothpaste out.

Flavor - While the taste isn't a health-related concern, find a toothpaste that is appealing to your child. Usually, young children prefer kid-friendly options like bubble-mint flavor over traditional mint flavors that are harsher. This way, you make the brushing experience more fun for your child.
What Toothpaste to Use for Baby?
Choosing the best baby toothpaste also means knowing the ingredients to avoid because some ingredients can be harmful to your baby. For example, SLS is a foaming agent that can cause canker sores. Meanwhile, toothpaste products also use essential oils and are advertised as "all-natural" due to their antimicrobial properties. However, these products are not suitable for babies because they inhibit the production of the oral microbiome of your baby. Lastly, harsh abrasive ingredients are harmful because they damage the enamel of your baby's teeth.
When to Use Toothpaste for Baby?
According to the American Academy of Pediatric Dentistry (AAPD), it's recommended to use toothpaste starting from their first tooth's appearance instead of waiting until they reach two years of age. So the advice goes that earlier is better. If you're looking for the best baby toothpaste, you can find a great selection at CVS Pharmacy®. Use a baby's toothpaste as soon as teeth appear because of cavities and tooth decay risks.