Showing 1-4 of
4 products
Beauty Tools & Accessories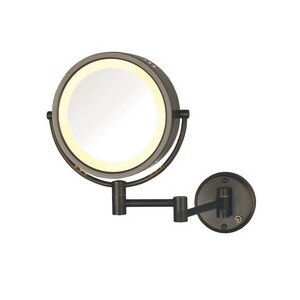 Jerdon Wall Mount Two Sided Lighted Direct Wire Makeup Mirror 1X/8X, Bronze Finish
Jerdon
Free shipping with $35+ orders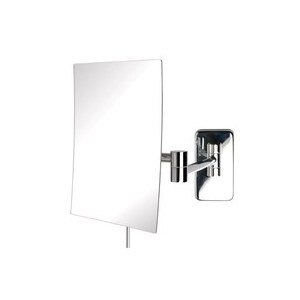 Jerdon Wall Mount Makeup Mirror 5X, Chrome Finish
Jerdon
Free shipping with $35+ orders
Jerdon Wall Mount Makeup Mirror 5X, Nickel Finish
Jerdon
Free shipping with $35+ orders
Prices may vary from online to in store.
Makeup Mirrors
Whether you're at home or on the go, you need a mirror to do your makeup – there's no getting around that. Trying to get your makeup done without a mirror is borderline impossible and never turns out well. Without a makeup mirror, you'll either end up walking around with lipstick on your teeth or mascara on your nose. Prevent walking around all day with those embarrassing makeup mistakes and shop makeup mirrors from CVS today!
Lighted Makeup Mirrors
Have you ever spent hours on your makeup to walk outside and see that your foundation is making you look orange? You're not the only one. The lighting in your bathroom or bedroom may be great to check out your outfit for the day but can be deceiving when it comes to makeup application. What you need, is a vanity mirror with lights. With a lighted makeup mirror, the LED bulbs give you the most accurate natural light and won't mislead you like the lights on your ceiling fan do.
Magnifying Mirrors
Get up close and personal with a magnifying mirror to tweeze your eyebrows or blend out your concealer. Conveniently, CVS offers hand mirrors that have a daily mirror on one side and a magnified mirror on the other. With a double sided mirror, it's like you're getting two mirrors for the price of one! Get a closer look when you're blending your eye shadow to perfection with the normal side and flip it over to the magnification side to get the eyelash out of your eye. While magnifying mirrors can be scary, they are so helpful when it comes to doing your makeup with precision – especially if you wear glasses!
Compact Mirrors
On the go? Shop compact mirrors that will conveniently fit in your makeup bag or purse. Stop hoping that others will let you know if there's food in your teeth and just whip out your compact mirror and find out for yourself. Not enough room on your vanity to fit a mirror? No problem! Choose from our large variety of wall mirrors. These mirrors can mount on your wall and are able to move around freely with their swivel designs. Some wall mounted mirrors even come with two sides to give you the confidence that every detail of your makeup and hair is perfect!
Vanity Mirrors
Whether you need a tabletop vanity mirror or a wall mounted mirror, CVS has the color and style to match your bathroom and home décor. With mirrors coming in chrome, brass, bronze, and more, you will find the best makeup mirror to match your taste and your room! Do your everyday makeup and hair routine in front of your lighted mirror and take your compact mirror with you to make sure it looks okay throughout the day. Look great all day, every day, and buy your new makeup mirrors from CVS today!
Related Searches
suction cup mirror, handheld mirror, moisturizing face masks, moisturizing face wash, exfoliating face wash, moisturizing serums