Showing 1-11 of
11 products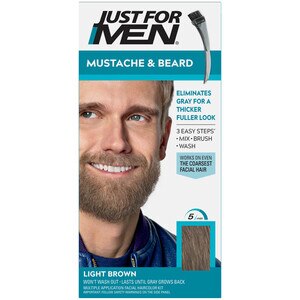 Just For Men Mustache & Beard, Beard Coloring for Gray Hair
Just For Men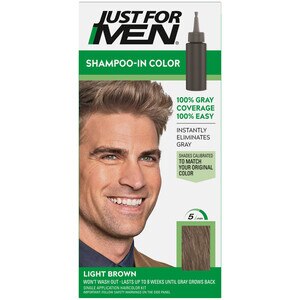 Just For Men Shampoo-In Color, Gray Hair Coloring for Men
Just For Men
Just For Men Easy Comb-In Color, Hair Color for Men with Comb Applicator
Just For Men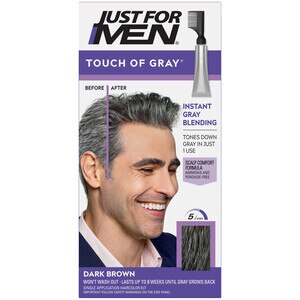 Just For Men Touch of Gray Hair Color with Comb Applicator, Great for a Salt and Pepper Look
Just For Men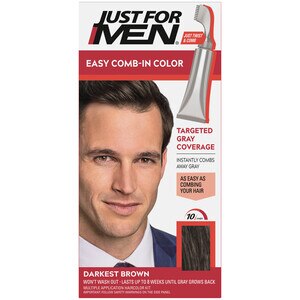 Just For Men Control GX Grey Reducing 2 in 1 Shampoo and Conditioner, 4 Fl Oz
Just For Men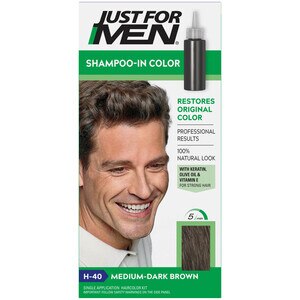 Just for Men Targets The Gray Hair Color, Medium Dark Brown
Just For Men
Limit 6 per order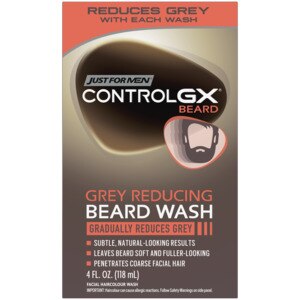 Just For Men Control GX Grey Reducing Beard Wash, 4 Fl Oz
Just For Men
Just For Men Control GX Grey Reducing Shampoo, 4 Fl Oz
Just For Men
Limit 6 per order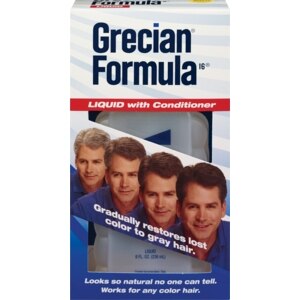 Prices may vary from online to in store.
Mens Hair Color
Many people think that coloring your hair is an activity reserved for women alone. However, many men also like to color their hair for several different reasons. Whether it's to cover up grays in order to look younger or just to enjoy sporting a new hue, men's hair color is a great way to achieve a brand-new look. Read on to learn more about how to use men's hair color and how to choose a shade that's right for you.
Permanent Hair Color For Men
If you're looking to completely change the color of your hair for good, a permanent dye is a good choice.If you're looking for a long-lasting, concentrated hair dye, try to look for one containing ethanolamine. Ethanolamine acts as both a degreaser and a way to allow the color to penetrate the hair follicle completely. Shop here today! The outer layer of the hair is called the cuticle, and it covers the inner part of the hair follicle where the actual color is located. To change your hair color, you'll need a men's hair color product that reaches deep past the cuticle and into that inner layer. When you apply the dye, it raises the pH level to relax the hair cuticle. This lifts up the protective layer, allowing the dye to penetrate deep within. When you use a permanent hair coloring product, be sure to follow the directions exactly for the best results.
Best Hair Color For Men
It can be tough to know which color will look best, especially if this is your first time using men's hair color. Here are some helpful tips that will ensure you choose the right color for you:
If you have fair or pale skin, choose something in a golden or cool blonde.

For men with darker skin, pay attention to the undertones of your skin and choose warmer hair colors like chestnut brown, ashy, or a warm chocolate brown color.

Once you find the right color for you, it's important to take good care of your newly tinted locks. Choose a quality shampoo and conditioner made especially for color-treated hair. You may need to do a few touch-ups of your hair every five to 10 weeks depending on how fast it grows out. There are some men's hair color touch-up kits that will just cover up the spots that need attention.

Look at a few pictures of the hair color shades you like before you decide. This will give you a better idea of which tones should look best on you.
With the right products and care, you can enjoy men's hair color to give yourself a fresh, new, and younger look. Shop the selection at CVS today to discover the perfect color for you.
color care, bold hair color, permanent hair color , semi permanent hair color, root touch up