Showing 1-5 of
5 products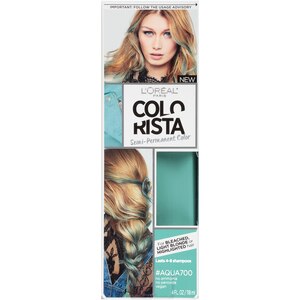 L'Oreal Paris Colorista Semi-Permanent Hair Color, Blonde/Bleached Hair
L'Oreal Paris
Prices may vary from online to in store.
Craving blue hair? Maybe you want to create a mermaid style with blue and green hair? Or are you looking to create a rock n roll vibe with blue and black hair? No matter what kind of blue hair you're dreaming of, we have something for you! CVS carries a selection of the best blue hair dye to choose from. Read on to learn more about how to dye your hair blue, choosing the best blue hair dye for your needs, and how to remove the color when you're ready to change things up again!
How To Dye Your Hair Blue
So you're ready to dye your hair blue. But how exactly do you get those gorgeous blue tresses you're craving? You'll want to start off with a blank canvas so that the vibrant blue dye shows up. In most cases, this means you'll need to bleach your hair to a platinum blonde shade. This is especially important if you have dark hair naturally or if you want to use a very light blue hair dye, but in most cases it is also important even if you're going for a dark blue hair color. Once your hair has been bleached, you're ready to dye it. For dark blue hair, you'll want to select a dark blue hair dye, or even a blue black hair dye to get those midnight locks you're craving. The same goes for navy blue hair. If you have naturally dark hair, you may want to search for blue hair dye for dark hair, which is oftenformulated with extra pigment. If you want light or pale blue hair, you'll want to select a light blue hair dye. For a very light look you'll want to specifically seek out a pastel blue hair dye or baby blue hair dye to achieve the right color – and whatever you do, do not skip bleaching first. Whether you are applying light blue hair color or dark blue hair dye, be sure to follow the directions on the package exactly. It's also important to keep in mind that blue hair dye stains. Wear gloves and take steps to protect the area you're working in. If you want to ward off stains on the skin around your hairline, some bloggers recommend applying a thin layer of petroleum jelly, which you can later wipe off.
How Long Does Blue Hair Dye Last?
Most brightly colored hair dye is of the semi-permanent variety. This means it will last through a small number of shampoo washes, but the color won't stay in for months at a time. If you can find it, permanent blue hair dye will last a little longer, but it's important to understand that all hair dye fades. Blue hair color, like most unusual shades, fades particularly quickly. Using a color protecting shampoo may help it last a little but longer, but if you are considering dying your hair blue, you should be prepared for frequent touchups and fast fading. In some cases, you may wish to apply temporary blue hair color to add blue steaks in your hair or to the tips of your locks for just a few days. Again, it is important to keep in mind that this type of color will tend to fade quickly, but always check the box to be sure of the longevity you can expect.
How To Remove Blue Hair Dye
If you get tired of your blue hair, there are things you can do to help get rid of it faster. Using hair bleach is one of the fastest and most effective options, but it can be damaging. In some cases, it may be best to go to a salon to have the color bleached out of your hair, although over the counter bleaching kits are available. If you're willing to give it a little time, shampooing your hair with a clarifying shampoo or dandruff shampoo can help wash semi-permanent hair dye out much more quickly than it would have faded away on its own. There are a number of additional options for removing blue hair dye that bloggers recommend, including using vitamin c gel or dishwashing liquid. No matter which method you choose, make sure you are being safe – it is important to protect your skin and scalp from harsh products. If you have questions or concerns, don't hesitate to go to a salon or ask your stylist for advice.
Related Searches
bleaching kit, green hair dye, blonde hair dye, hairspray, disposable gloves