Showing 61-80 of
82 products
Thick Head Hair Regrowth Treatment Easy Precision Sprayer, 2 OZ
Thick Head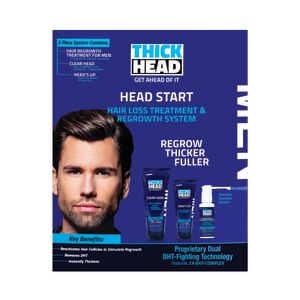 Thick Head 3-Piece Hair Loss Treatment & Regrowth System
Thick Head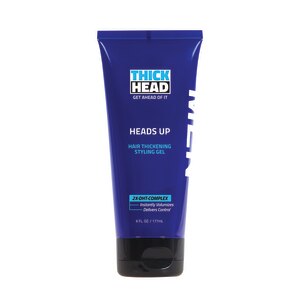 Thick Head Heads Up Hair Thickening Gel, 6 OZ
Thick Head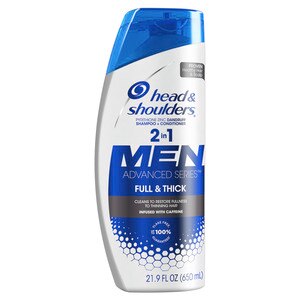 Head & Shoulders Full & Thick 2-In-1 for Men Dandruff Shampoo + Conditioner, 23.7 OZ
Head & Shoulders
Buy 1, Get 1 40% Off - Add 2 or more to qualify!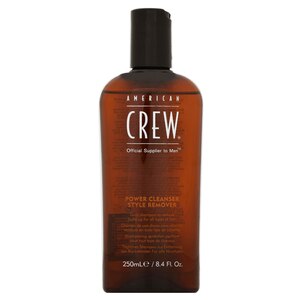 Free shipping with $35+ orders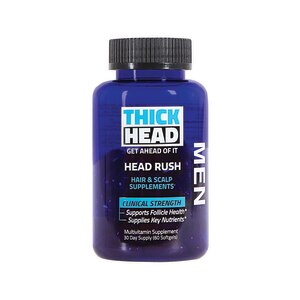 Thick Head Head Rush Hair & Scalp Supplements, 60CT
Thick Head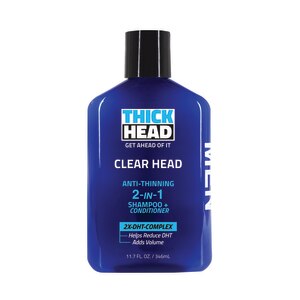 Thick Head Clear Head Anti-thinning, DHT Reducing 2 in 1 Shampoo & Conditioner, 11.7 OZ
Thick Head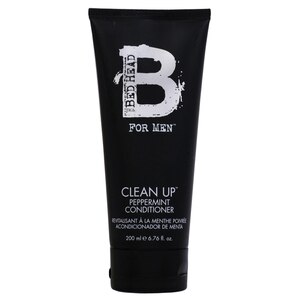 Tigi Men Clean Up Peppermint Conditioner
TIGI
Free shipping with $35+ orders
Prices may vary from online to in store.
CVS carries a wide selection of men's hair products that are designed to address a variety of needs. From washing and styling to conditioning and even re-growing your hair, we've got you covered. Our high quality mens hair products are specially formulated to help guys' hair look and feel its best! Read on to learn all about the latest men's hair care products that CVS has to offer!
Men's Shampoo & Conditioner
It is important to wash and condition your hair using the right products. Men's shampoo and conditioner is designed specifically with guys in mind. With so many options to choose from, selecting the best men's shampoo and conditioner for you can seem impossible. But don't worry! The main thing you need to consider when choosing men's shampoo and conditioner is hair type. If you have normal hair, meaning it isn't too dry or too oily, look for a daily shampoo and conditioner. If your hair is prone to becoming dry and brittle, look for products that are moisturizing, like American Crew. Got an overly oily scalp? Shampoo and conditioner for oily hair should be able to help balance that out. And if you suffer from dandruff or itchy scalp, dandruff shampoo for men should be able to give you some relief. Try Head and Shoulders Full and Thick, which earned a 5 star rating from over 1,400 consumers. You many also want to consider scent. Many of the top men's shampoo and conditioner brands offer products in multiple scents so that you can choose one that you like.
Coloring & Hair Regrowth for Men
Worried about hair loss? It's a common concern for men, but there's no need to stress! CVS offers a selection of hair loss treatment options to help. Many of these products, such as Rogaine Foam (Minoxidil), are formulated with chemicals that help to reactivate shrunken hair follicles so that new, fuller hair can grow. If your hair loss is hereditary and located at the top of your scalp, hair regrowth products may be able to help. If your hair is starting to thin and you're concerned, don't hesitate to discuss over the counter hair growth treatments with your doctor. Alternatively, if your hair is looking dull and lifeless but you aren't experiencing any notable hair loss, you may want to try hair thickening products such as a revitalizing shampoo, designed to help thicken and restore your hair to a healthy state. And if color is your issue, don't worry. Hair dye for men comes in many flattering shades and allows you to cover up gray or even change the color of your hair entirely – right from the comfort of your own home.
Men's Hair Products
Your hairstyle is an extension of who you are! We understand that how you present yourself to the world matters to you, so we're here to help with a great selection of men's hair products. Pomade, mens styling cream, menshair balm, and men's hair gel or paste are all styling products designed to allow you to spike, tousle, and arrange your hair to perfectly suit your tastes. Whether you want to look coiffed and professional or tousled and wild, the right men's hair products can help you achieve your desired look. For example, hair gel for men is a great way to control the way your hair looks and express your personal style. If you aren't sure where to start your search, Old Spice Hair Pomade has earned over four stars from 500+ consumers. It's designed to give you a clean-cut look. For spikes and more dramatic hairstyles, consider a product with extra hold, like Axe Spiked Putty. And if you're trying for something in between – like that slightly messy, just-got-out-of-bed look – we've got you covered there, too. Try the very well-reviewed Old Spice Paste for a delightfully unkempt style.
Where To Buy Mens Hair Products
You can buy all the mens hair products you need to clean, care for, and style your hair at CVS. Stop by your local store to check out the wide range of products and brands available. Alternatively, you can shop online and we'll ship your order right to your door. If you're looking for affordable men's shampoo, conditioner, and styling products, CVS has you covered! After all, men's hair is unique, and so are you. If you want to keep your hair looking its best, choosing the right products is a great place to start. And while there is no single best product that works for every guy, with a little experimentation, you can find the best mens hair products for you!
Related Products
Men's Bath & Body Wash, Men's Creams & Lotions, Men's Face Wash, Shampoo & Conditioner, Styling, Hair Gel, Wax, & Pomades