Showing 1-20 of
37 products
CeraVe Moisturizing Cream, Body and Face Moisturizer
CeraVe
CVS Itch Relief Cream Original Strength, 1 OZ
CVS Health
Limit 3 per order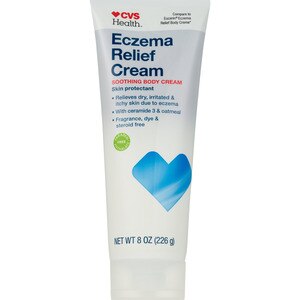 CVS Health Eczema Relief Cream, 8 OZ
CVS Health
Buy 1, Get 1 50% Off - Add 2 or more to qualify!
Limit 6 per order
Prices may vary from online to in store.
What Is Eczema?
Eczema is a term that is commonly used to refer to a group of medical conditions that cause the skin to become inflamed and irritated. Regardless of the location, common symptoms of eczema include: dry skin, itchy rash, and skin thickening. Affected areas may appear dry, scaly, or have a thickened layer of skin. The rash may also appear reddish in color, then transition into a darker brown.
What Causes Eczema?
An exact cause of eczema is unknown. However, we understand that eczema may be attributed to a number of reasons, including certain genes and triggers that affect the skin. Some people may also experience what is known as eczema flare-ups which are instances of itchy skin that occur in response to a substance or condition. Some conditions that may cause flare-ups include upper respiratory infections and the common cold.
What Are the Different Types of Eczema?
There are several different types of eczema that people may experience, which include: atopic dermatitis (which is the most common form of eczema), contact dermatitis, dyshidrotic eczema, nummular eczema, seborrheic dermatitis, and stasis dermatitis. Children and babies commonly experience eczema on their cheeks and chin. Adults may develop eczema as well even if they never had it as a child.
What Are The Symptoms Of Eczema?
Some symptoms of eczema include dry, sensitive skin, red inflammation on skin, dark colored patches of skin, leathery or scaly skin patches, areas of swelling, crusting, or severe itching.
What Are the Differences Between Psoriasis and Eczema?
Both psoriasis and eczema are skin conditions, but they are different in how they appear and feel. Eczema is commonly described as an intense itching feeling whereas psoriasis may include both an itching and burning sensation. Eczema may often appear as a red skin inflammation, whereas psoriasis may appear as silvery or scaly skin and often has a deeper reddish color than eczema. Consult a dermatologist if you are unsure what kind of skin condition you may have to ensure that you get the proper treatment.
Eczema Treatment Options
It is often difficult to tell if you or your child may have eczema. If you are unsure, it is important to contact a dermatologist to find out. If you have mild eczema, small changes to your daily life may be recommended for improved skin. Using a mild soap or soap substitute that won't dry out your skin may help. A good moisturizer or hand cream may also help, especially when applied after a shower or bath. For more severe cases of eczema, medicine may be recommended by your doctor to help you get relief. Common treatment options include: hydrocortisone, antihistamine, corticosteroid, or ultraviolet light therapy. Your doctor can tell you which eczema treatment options may work best for you.
Eczema on Babies and Infants
During the first few months of life, your baby may experience symptoms of red, crusty patches of skin. If you are unsure if your child has eczema, it is best to consult your doctor to find out exactly what is causing this. Babies may show signs of eczema anywhere on their body, but most commonly it is found on their cheeks and the joints of their arms and legs. If eczema runs in the family, then your child may be more likely to have it. Treatment options for infants with eczema include applying a fragrance-free cream or ointment such as petroleum jelly, which may help the baby's skin retain its natural moisture. A short, lukewarm bath may help cool their skin and reduce itching.
Related Searches
baby eczema cream, eczema treatment cream, cerave moisturizer, hydrocolloid bandages , shampoo for eczema, best eczema cream