Showing 1-14 of
14 products
Colgate Total Whitening with Charcoal Toothpaste with Stannous Fluoride and Zinc
Colgate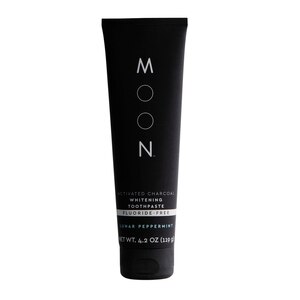 MOON Whitening Fluoride-Free Toothpaste, 4.2 OZ
Moon
Limit 3 per order
Colgate Optic White with Charcoal Whitening Toothpaste, Cool Mint Paste, 4.2 OZ (2 Pack)
Colgate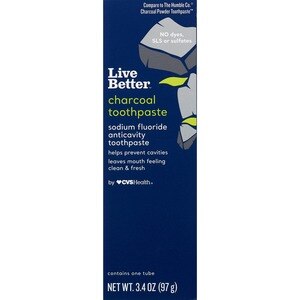 Live Better Charcoal Toothpaste, 3.4 OZ
Live Better
Buy 1, Get 1 50% Off - Add 2 or more to qualify!
Limit 3 per order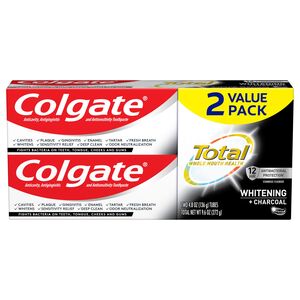 Colgate Total Whitening with Charcoal Toothpaste with Stannous Fluoride and Zinc, 4.8 OZ (2 Packs)
Colgate
Prices may vary from online to in store.
Activated charcoal supplement
Activated charcoal supplements are typically consumed in capsule form, with dosages ranging from 260 to 780 mg. The black powder has long been used to help the body eliminate toxins, and it is commonly applied in the treatment of alcohol or drug overdose. 
Charcoal becomes "activated" by heating it to very high temperatures, which increases its porosity and its surface area. The activation process leaves the treated charcoal with a negative charge. As many toxins are positively charged, activated charcoal may be able to bind with them to prevent them being absorbed by the body. The human digestive system cannot absorb activated charcoal, so both the powder and any toxins bound to it are excreted as feces.
However, activated charcoal supplements are not an alternative to professional medical care in the event of an overdose. Be sure to consult your physician before adding any supplement to your diet.
Activated charcoal for bloating
Beyond removing toxins, there is evidence to suggest that activated charcoal supplementation can reduce bloating. For both men with excessive gas and those without, activated charcoal used in conjunction with simethicone has been shown to reduce gas by 25%. Many find that taking activated charcoal about 30 minutes prior to eating helps to keep their stomach settled after a hearty meal.
Just as activated carbon's negative charge allows it to bind with toxins in the gut, it can also bind with gases. In fact, activated charcoal may even improve the odor of intestinal gases. If you are notorious for flatulence, consider trying an activated charcoal supplement before your next family road trip. 
Activated charcoal teeth whitening powder
Due to its detoxifying and antibacterial properties, activated charcoal is a common ingredient in toothpastes and other tooth-whitening products. Though a glob of black goo doesn't look appealing on your toothbrush, it is an effective means of removing plaque to keep your teeth clean. With natural flavors such as mint and coconut available, it can taste just as good as traditional toothpaste.
However, the evidence for the tooth-whitening effect of activated charcoal products is largely anecdotal. Though many have found activated charcoal teeth whitening powders and toothpastes to be effective, such results have not been verified by researchers. Ask your dentist to see if an activated charcoal product should be a part of your oral health routine. 
Related Searches
magnesium stearate, canned dog food, cheap charcoal face masks, best exfoliator for men, best mens oily skin care products, body wash for sensitive skin