Showing 1-20 of
109 products
Free shipping with $35+ orders
Limit 6 per order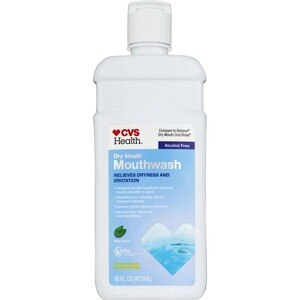 CVS Health Dry Mouth Mouthwash Mint
CVS Health
Buy 1, Get 1 50% Off - Add 2 or more to qualify!
Limit 3 per order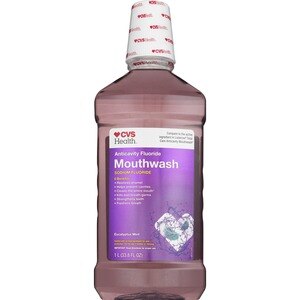 CVS Health Anticavity Fluoride Mouthwash, Mint, 33.8 oz
CVS Health
Buy 1, Get 1 50% Off - Add 2 or more to qualify!
Limit 3 per order
Prices may vary from online to in store.
Antifungal Mouthwash
While typical mouthwashes help to fight cavities and freshen breath, an antifungal mouthwash has medicinal properties you may need. If you are having trouble swallowing or you've noticed white lesions around your mouth, on the tongue, or in the back of your throat, you could have a condition called oral thrush. In order to combat the symptoms of oral thrush, you may need to take medications or use an antifungal mouthwash to get things back to normal. You should always talk to your health care provider if you believe you are suffering from a condition.
Oral Thrush Treatment
Oral thrush is a fungal infection that can develop on the mucous membranes inside the mouth. Some of the symptoms include extremely bad breath, a white tongue, loss of taste, and difficulty swallowing that may be accompanied by pain. Bacteria called Candida can start to become active in your mouth and crowd out the healthy bacteria you need for a healthy oral microbiome. If you suspect that you may have oral thrush, you're not alone. In fact, there are more than 200,000 cases of this fungal infection in the United States each year. Thankfully, there are some things you can do to combat this problem including using an antifungal mouthwash.
Antifungal Mouthwash for Thrush
Depending on the severity of your oral thrush, you may be able to treat it with an over-the-counter or prescription antifungal mouthwash, or by having one made by your pharmacy. This mouthwash is made to help fight oral inflammation and reduce pain while killing the harmful Candida bacteria in your mouth. One ingredient that may help to relieve the symptoms of oral thrush includes lidocaine, which can reduce the pain while your condition is being treated. Special antimicrobial agents in the mouthwash can also help to eliminate the harmful bacteria and fungus being harbored in the mouth's mucous membranes.
If you're using an antifungal mouthwash to treat oral thrush, make sure you swish it around in your mouth and hold it for at least one to two minutes. In some cases, you may be instructed to swallow the mouthwash to help the antifungal agents work locally as well as holistically throughout your body. Only swallow this mouthwash if directed to do so on the packaging or if you're told to do so by your healthcare provider. Use it two to three times per day, every day until your symptoms subside. If you're still having trouble, talk to your doctor or dentist about other possible treatments.
Related Searches
mouthwash
,
antibacterial mouthwash
,
alchohol free mouthwash
,
hydrogen peroxide mouthwash
,
flouride mouthwash
,
best mouthwash