Showing 1-7 of
7 products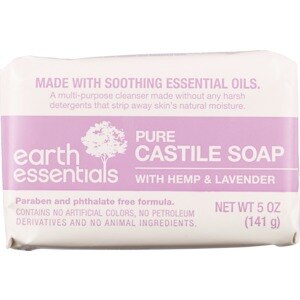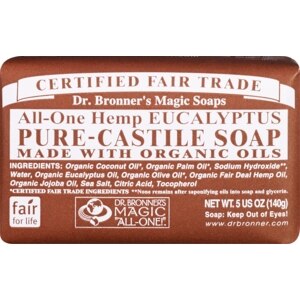 Dr. Bronner's Magic Soaps Eucalyptus Pure-Castile Bar Soap
Dr. Bronners
Dr. Bronner's Magic Soaps Citrus Orange Pure-Castile Bar Soap
Dr. Bronners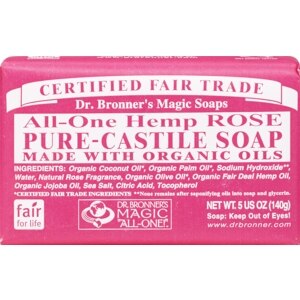 Dr. Bronner's Magic Soaps Hemp Rose Pure-Castile Bar Soap
Dr. Bronners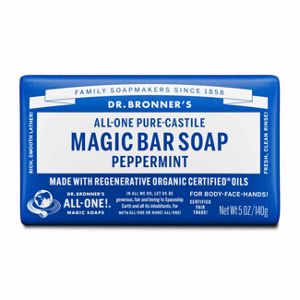 Dr. Bronner's Magic Soaps Peppermint Pure-Castile Bar Soap
Dr. Bronners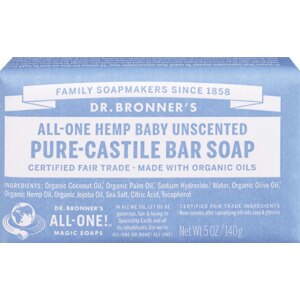 Dr. Bronner's Magic Soaps Unscented Baby-Mild Pure-Castile Bar Soap
Dr. Bronners
Prices may vary from online to in store.
When it comes to cleaning products, castile soap is versatile and environmentally-friendly options available today. This multipurpose soap can be used for a wide variety of applications. You can purchase castile soap raw or buy it with an additional fragrance that ranges from soothing lavender to sweet almond. With so many different uses, it's no wonder this form of soap has taken the cleaning world by storm.
What Is Castile Soap?
Castile soap gets its name from the town of Castile, Spain. This soap is based on the olive oil-based soaps that are made in this region. It typically comes in a liquid form but can also be sold in bar form as well. The main component of castile soap is vegetable oil is opposed to making their soaps with animal fats. Some brands may include a mixture of other ingredients like coconut, hemp oil, avocado oil, and almond oil. It is a bit more alkaline than most mild dish soaps but is still less alkaline than other extremely corrosive cleaners.
Castile Soap Uses
Castile soap can be highly effective at capturing dirt and other molecules and does an excellent job at grabbing onto and cleaning grease. Here are a few ways you can use castile soap at home:
Clean dirty oven hoods and greasy dishes like pots and pans with castile soap.
Use castile soap to clean a variety of surfaces throughout your home like kitchen and bathroom counters, floors, toilets, shower stalls, and bathtubs.
Read the manufacturer's label to determine how much castile soap you can use per load of laundry and replace your normal detergent with it for gentle, effective cleaning.
Since castile soap is safe and non-toxic, you can mix it with water and use it to clean and bathe pets and even kids. Well-diluted castile soap can even be used to rinse and clean fruits and vegetables.
Add two teaspoons of castile soap to two cups of clean, filtered water and use the solution to help clean and disinfect wounds.
Other helpful uses for this special soap include washing windows, making homemade deodorant, and using it as a hair, face, and body wash.
Thanks to its many incredible uses, you'll enjoy getting several applications all from one product. This versatile, natural, and safe soap can be found at CVS where you can choose the right type of castile soap that can suit your needs.
Related Searches
dr bronner's castile soap
,
unscented castile soap
,
peppermint castile soap
,
liquid castile soap