Showing 1-1 of
1 products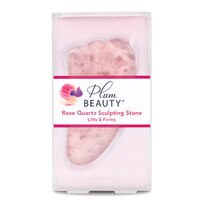 Prices may vary from online to in store.
What are the Best Gua Sha Brands?
What Is a Gua Sha?  
Gua sha is a traditional Chinese healing technique that may add extra beauty benefits to your daily skin care routine. You can use a sculpting gua sha stone at home to help lift and smooth your skin and give your complexion a healthy glow.  
How Does Gua Sha Work? 
A gua sha stone is a revitalizing skin tool with round, smooth edges and a comfortable grip. Designed to massage the natural contours of the face, this sculpting stone may help expand the blood vessels to improve blood circulation and lymphatic drainage. 
While gua sha was originally used on the arms, legs and back, today it's a popular tool for spa and at-home facials. Regular gua sha treatment may help: 
De-puff, tighten and tone the skin 

Minimize the appearance of pores 

Smooth fine lines and wrinkles 

Enhance the effectiveness of skin care products 
Similar to facial rollers, some of the best gua sha stones are made from jade or rose quartz. Rose quartz crystal is traditionally associated with healing and self-love. 
When Should You Use Gua Sha? 
Gua sha treatment for the face is best done in the morning to reduce overnight puffiness and wake up the facial muscles. However, some people prefer gua sha in the evening, as it may help relieve stress and facial tension built up during the day. 
You can incorporate this self-care ritual into your skin care routine once a week or more often, depending on your tolerance. Start slowly if you have sensitive skin and use gentle care with delicate areas, including around the eye. 
How Do You Use Gua Sha? 
To enjoy your gua sha tool, first apply moisturizer or serum to help the stone glide more easily. Then use gentle pressure to slowly drag one of the stone's smooth edges across your skin for two strokes. An upward sweeping motion is the best gua sha treatment for the neck, jaw and cheeks. For the under eye area, start from the corner of your nose and glide the stone out toward your temple. 
Continue the facial massage until your skin care product is absorbed. Then wipe the gua sha stone clean with a towel. In between uses, store your gua sha tool in a cool, dry place. Some people like to keep their stone in the refrigerator or freezer for an extra cooling effect.