Showing 1-8 of
8 products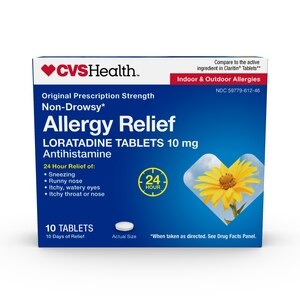 CVS Health Allergy Relief Loratadine Tablets 24 Hour Non-Drowsy, 10 mg, 10 CT
CVS Health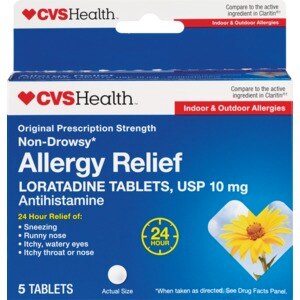 CVS Health Allergy Relief Non-Drowsy Loratadine Tablets, 5 CT
CVS Health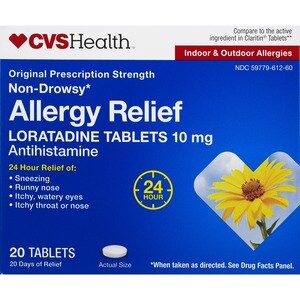 CVS Health Allergy Relief Non-Drowsy Loratadine Tablets 10mg
CVS Health
Prices may vary from online to in store.
When sneezing, nasal congestion, itchy eyes and other allergy symptoms get in the way of your day, over-the-counter medications can help you get relief. Today, there are a number of medicines that you can purchase to address allergy symptoms without a doctor's prescription. CVS makes it easy to buy allergy relief medications with a diverse assortment of products that you can purchase online. In this selection, you'll find all of the allergy relief medicine that contains loratadine.
Understanding Your Allergy Symptoms
In order to understand how loratadine eases allergy symptoms, you first need to understand what causes allergies. Allergy symptoms occur due to an immune system reaction to a harmless substance caused an allergen. The immune system mistakenly identifies the allergen as a threat and prepares to fight to protect your body from its effects. To do so, the immune system releases histamine. This compound is what gives rise to allergy symptoms.
What Is Loratadine?
Loratadine is an over-the-counter medication that carries U.S. Food and Drug Administration approval for the treatment of allergy symptoms. In your body, loratadine acts on the receptors that accept histamine. The medication prevents histamine from binding to those receptors to prevent allergy symptoms from occurring. Loratadine is known as a second-generation antihistamine. This class of drugs does not cause drowsiness and provides extended relief from allergy symptoms. The downside is that loratadine takes longer to begin relieving symptoms than first-generation antihistamines like diphenhydramine. As a result, loratadine is typically recommended for managing chronic allergy symptoms rather than for easing sudden allergic reactions.
Loratadine Dosage & Forms
There are two strengths of loratadine available over the counter for adults: 5 milligram and 10 milligram. The 5-milligram option typically provides allergy relief for 12 hours and is taken once per day. Providing 24 hours of relief, the 10-milligram option only needs to be taken once daily. Most loratadine medications come in tablet form. You can also find a small number of liquid gel products. These capsules may allow loratadine to be absorbed by your body more quickly.
Loratadine Warnings
Although you can purchase loratadine without a doctor's prescription, you should still consult your health care provider before using the medication for the first time. Always follow the directions for use provided by the manufacturer unless your medical provider gives you other advice. Loratadine may not be safe for people with liver or kidney disease or for individuals with other medical conditions.
Popular Searches:
Shampoo Bar, Moroccan Oil Shampoo, Propylene Glycol, Natural Antiperspirant