CVS Health Clotrimazole Cream Usp 1%, 1 OZ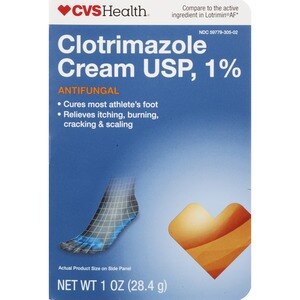 CVS Health Clotrimazole Cream Usp 1%, 1 OZ
1 OZ, .11 lbs. Item # 211037
HSA/FSA Eligible
Clotrimazole Cream USP 1% cures athlete's foot (tinea pedis), jock itch (tinea cruris), and ringworm (tinea corporis). For effective relief of the itching, cracking, burning, and discomfort which can accompany these conditions.
Cleanse skin with soap and water and dry thoroughly. Apply a thin layer over affected area morning and evening or as directed by a physician. For athlete's foot, pay special attention to the spaces between the toes. It is also helpful to wear well-fitting, ventilated shoes and to change shoes and socks at least once daily. Best results in athlete's foot and ringworm are usually obtained within 4 weeks' use of this product, and in jock itch, within 2 weeks' use. If satisfactory results have not occurred within these times, consult a physician or pharmacist. Children under 12 years of age should be supervised in the use of this product. This product is not effective on the scalp or nails.
Warnings
Do not use on children under 2 years of age except under the advice and supervision of a physician. For external use only. Avoid contact with the eyes. If irritation occurs or there is no improvement within 4 weeks (for athlete's foot or ringworm) or within 2 weeks (for jock itch), discontinue use and consult a physician or pharmacist. Keep this and all drugs out of the reach of children. In case of accidental ingestion, seek professional assistance or contact a Poison Control Center immediately. Use only as directed.
*Customer reviews and ratings solely reflect the views and opinions of the individual contributors and are not created or endorsed by CVS Pharmacy. Please review the product labeling and consult with your doctor with any health or medical questions.
What is Clotrimazole?
Clotrimazole is an antifungal medication that is used to help treat a variety of conditions including athlete's foot, ringworm, diaper rash, vaginal yeast infections, and jock itch. This antifungal product can be found in the form of sprays and ointments for topical application. Though clotrimazole is usually sold as an over the counter product, for more severe fungal infections you should see your doctor.
What is Clotrimazole Cream Used For?
As a cream, Clotrimazole is used to help treat the symptoms of athlete's foot and other fungal infections. If used correctly, patients should begin to have help with relief from some symptoms of their infection such as redness, dryness, and itching. If no relief is seen after 2-4 weeks of continued use you should contact your doctor. The cream may give patients relief from many of the symptoms associated with some of the most common fungal infections. It is also used to help stop the spread of the infection to other parts of the body.
How do I Use Clotrimazole?
Topical products containing clotrimazole should be used on the skin only.. First, clean and thoroughly dry the affected area, then apply the medication directly to the skin. Follow the directions as listed on the packaging or as directed by your doctor. Never apply Clotrimazole to the eyes, nose, or mouth. Use it at the same time each day for best results. ontinue to apply to the product based on package directions or as instructed by your doctor.
How Often Should You Apply Clotrimazole?
Unless otherwise directed by a doctor, you should apply Clotrimazole to the skin at least twice per day. It's recommended that you apply the second dose before bedtime to help with healing. You will need to use the medication regularly for best results. Continue to use the product until the infection is gone. If your infection worsens at any time during treatment or does not improve after 2 weeks (jock itch) or 4 weeks (athlete's foot or ringworm), contact your doctor for further instructions and care recommendations.
Related Searches