CVS Health Sterile Manuka Honey Adhesive Pads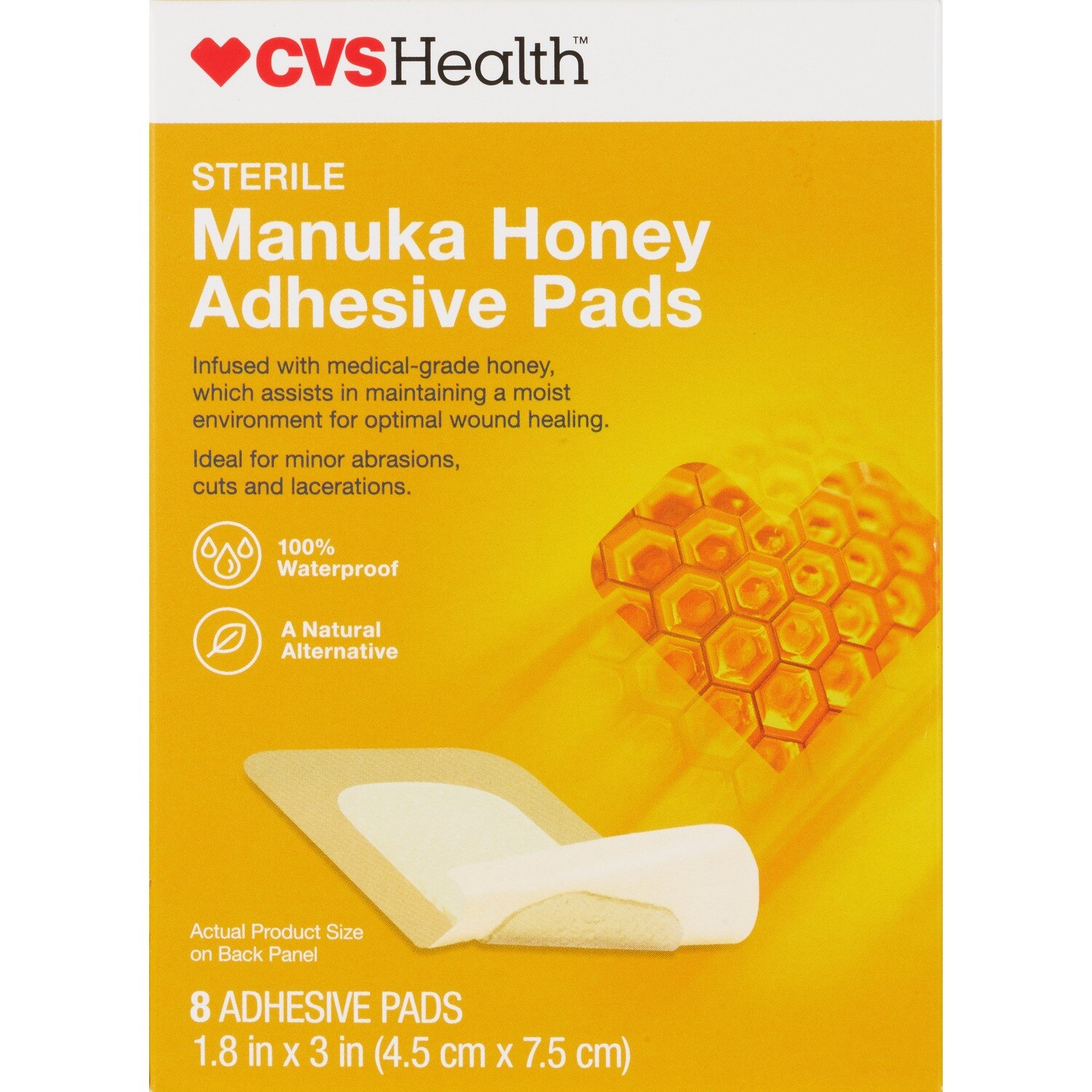 CVS Health Sterile Manuka Honey Adhesive Pads
8 CT, .08 lbs. Item # 937404
HSA/FSA Eligible
100% Waterproof
Actual Product Size on Back Panel
3 Adhesive Pads
Help to achieve wound healing the natural way with natural ingredients with CVS Health Sterile Manuka Honey Adhesive Pads. This unique product is infused with medical-grade honey that can help to control inflammation and bacterial growth to help with better wound healing for minor abrasions, cuts, and lacerations. Each patch is individually wrapped and is 100-percent waterproof. Manuka honey is medical grade honey harvested from the Leptospermum Scopartum shrub in New Zealand. This particular species contains nectar that has unique components that make it an option for helping to heal various wounds and burns.
These adhesive pads are guaranteed to be clean and sterile unless the wrapper has been opened or damaged. They are latex-free for added safety and are FSA eligible. Before applying the pads, be sure to gently clean the wound and use CVS Health first aid products. Use mild soap and water, and then carefully dry the affected area and apply medication if needed. Cover the wound with the adhesive honey pads, securing all four sides to the skin.
If you notice any signs of infection such as fever, pain, redness, itchiness, swelling, or a burning sensation, consult your doctor or other healthcare provider. You should also ask your doctor and discontinue use if you notice any changes to the wound color or notice an odor. Do not use this product if you have a known allergy or sensitivity to honey. You may notice a slight, light stinging feeling that should last less than five minutes. If the stinging persists, remove the pad, clean the wound, and stop use. Change the dressing as needed.
Directions: Clean the wound. Cover the affected area with the Manuka Honey Adhesive Pad. Smooth down adhesive edges. If leakage around the bandage should occur, change the bandage as needed. Moisten with sterile saline if wound appears dry before removal.
Store at room temperature: 50-77°F (10-25°C.) Keep dry.
Warnings
WARNING: If there are signs of infection such as fever, pain, redness, swelling, itching, rash or burning, increased wound drainage, increased skin irritation, and changes in wound color and/or odor, consult your doctor. Patients with known sensitivity to honey should not use this product.
Due to the low pH balance, some people may notice slight stinging that lasts less than 5 minutes. If stinging persists, remove dressing, clean area, and stop use. Osmotic activity can draw increased fluid, which will require frequent dressing changes.
NOT FOR: People with a known allergy or hypersensitivity to honey.
*Customer reviews and ratings solely reflect the views and opinions of the individual contributors and are not created or endorsed by CVS Pharmacy. Please review the product labeling and consult with your doctor with any health or medical questions.