Ellume Covid-19 Home Test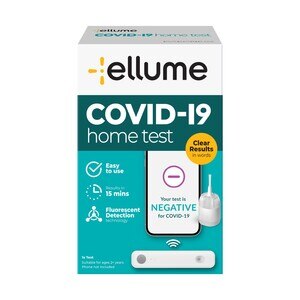 Ellume Covid-19 Home Test
1 EA, .19 lbs. Item # 701505
Supply is very limited. To help serve as many as we can, we have a purchase
limit of 6 test kits
per transaction. Please note, we are
not
accepting returns for COVID-19 test kits.
COVID-19 home tests are now covered by select insurance plans*.
Please contact your insurance provider to confirm eligibility and get information about your insurer's claim submission process.
*Applies to fully-insured and self-insured group and individual coverage, including FEHB plans until the end of the public health emergency. Does not apply to Medicare and Medicaid plan coverage.
HSA/FSA Eligible
The Ellume COVID-19 Home Test is the only home test to use innovative fluorescent technology, previously only used by doctors, to detect COVID-19 infection and generate highly accurate results in 15 minutes. The easy-to-use home test includes a free app that will guide you through the test including an information video and step-by-step instructions.
The sample is analyzed and the unambiguous result is displayed in words on your phone (no interpretation of faint test lines required). Unique sample quality control technology ensures this test will only run when there is enough sample to provide an accurate result, which minimizes the risk of false negative results and reduces the risk of people unintentionally spreading COVID-19. Clinically proven for use by people with and without symptoms, this test is suitable for ages 2 years and above. The test features a user-friendly nasal swab with child adapter to ensure safety & comfort when swabbing children. This test has been designed to withstand mutations to the virus and we have an ongoing testing program ensuring it covers the latest variants as they appear. The test targets a protein in the virus (the nucleocapsid protein), which remains largely unchanged in SARS-CoV-2 variants.
In October, we conducted a voluntary recall of some specific tests when we identified some tests had an increased chance of providing a false positive result. So that our test continues to be one of the most accurate rapid antigen tests on the market, we implemented additional controls to ensure our product meets our high-quality standards. We apologize for the frustration this caused. We have taken appropriate measures so that the product now on shelves meets our highest quality standards.
Ingredients
The Ellume COVID-19 Home Test is a single use test. The kit contains:
Analyzer
A nasal swab with protective child adapter
Dropper
Processing Fluid
Required smartphone not included
The Ellume COVID-19 Home Test requires a series of simple steps:
1. Download to your phone and open the Ellume COVID Test App from the Apple® or
Google® Play Store
2. Answer a few questions
3. Watch the information video
4. Perform the easy-to-use-test
5. Receive your result in 15 minutes
Warnings
To obtain accurate results, the in-app instructions should be followed.
Do not use on anyone under 2 years of age
Do not use on anyone who is prone to nosebleeds or has had facial or head injury/surgery in the last 6 months.
Do not use the test kit contents beyond the expiration date printed on the outside of the box.
Do not open any of the packaging until you are ready to begin your test.
Use the test within 60 minutes of opening the Analyzer and Dropper foil packaging.
Do not perform the test in direct sunlight.
This product has not been FDA cleared or approved; but has been authorized by FDA under an EUA; This product has been authorized only for the detection of proteins from SARS-CoV-2, not for any other viruses or pathogens; and, This product is only authorized for the duration of the declaration that circumstances exist justifying the authorization of emergency use of in vitro diagnostics for detection and/or diagnosis of COVID-19 under Section 564(b)(1) of the Federal Food, Drug and Cosmetic Act, 21 U.S.C. § 360bbb-3(b)(1), unless the declaration is terminated or authorization is revoked sooner.
*Customer reviews and ratings solely reflect the views and opinions of the individual contributors and are not created or endorsed by CVS Pharmacy. Please review the product labeling and consult with your doctor with any health or medical questions.