Showing 1-20 of
168 products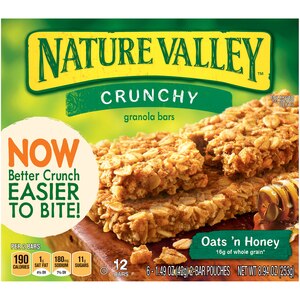 Free shipping with $35+ orders
Limit 6 per order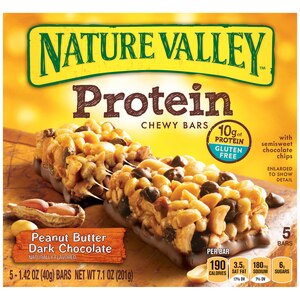 Nature Valley Protein Chewy Bars, Peanut Butter Dark Chocolate
Nature Valley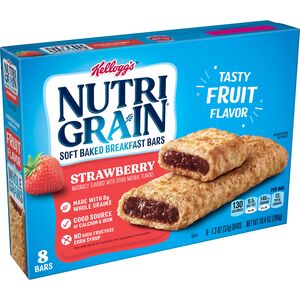 Kellogg's Nutri-Grain Cereal Bars Strawberry
Nutri-Grain
Free shipping with $35+ orders
Limit 6 per order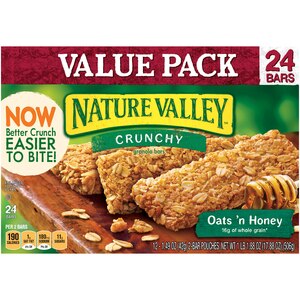 Nature Valley Oats 'n Honey Crunchy Granola Bars Sports Pack
Nature Valley
Clif Bar Energy Bars Chocolate Chip 14.4OZ, 6 CT
Clif Bar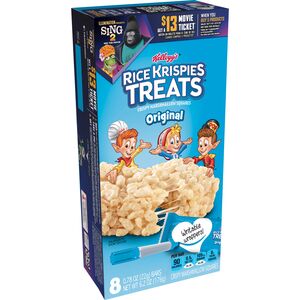 Free shipping with $35+ orders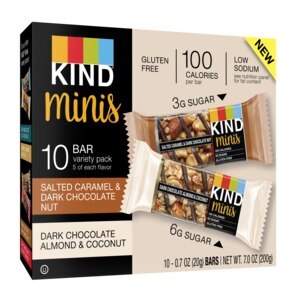 Kind Minis Salted Caramel Dark Chocolate and Almond Coconut, 10 CT
Kind
Limit 4 per order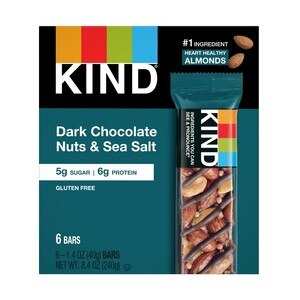 Kind Dark Chocolate Nuts & Sea Salt Bars, 6 CT
Kind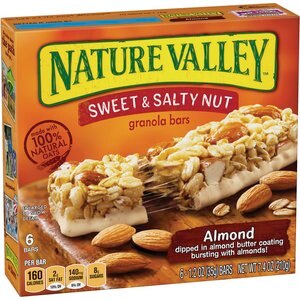 Free shipping with $35+ orders
Limit 6 per order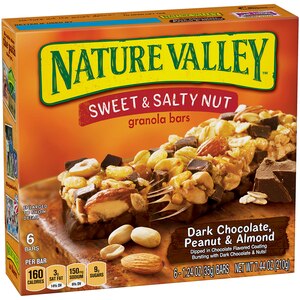 Nature Valley Sweet & Salty Nut Granola Bar Dark Chocolate Peanut and Almond 1.24 OZ Bars, 6 CT Box
Nature Valley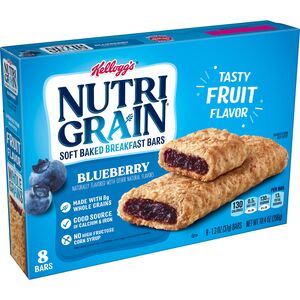 Free shipping with $35+ orders
Limit 6 per order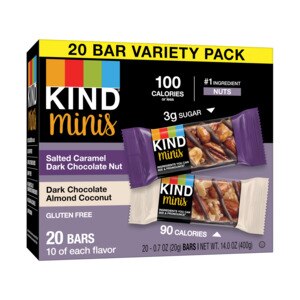 Kind Minis Bar Variety Pack, Salted Caramel Dark Chocolate & Dark Chocolate Almond Coconut, 20 CT
Kind
Prices may vary from online to in store.
Meal Bars
With your busy lifestyle, you may not always have time to sit down and enjoy a healthy, home-cooked meal, but that doesn't mean you have to resort to visiting the vending machine or heading through the drive-thru line. Bars can provide a nutritious, quick meal or snack and are easy to enjoy on the go. CVS can help you stock up on bars from your favorite brands with a huge selection of products available for you to shop online.
Granola Bar Ingredients
Today, there are many different kinds of bars available for meal replacements and snacks, but you'll notice that there are a number of ingredients that are commonly used in these simple-to-eat foods. Many bars are made primarily out of a grain like granola or oats. Nuts are often added for crunch, and there is typically a sweet element like fruits or chocolate. In addition, bars are usually held together with a sticky food like honey, caramel or peanut butter. To find out what's in any of the bars in this selection, simply check out the product descriptions.
Breakfast Bars
When you don't have time to start your day off with a sit-down meal, you can reach for a breakfast bar. These bars typically provide enough calories to take the place of a morning meal. Despite their names, breakfast bars aren't just intended for the morning. You can also enjoy them as a quick lunch or dinner.
Snack Bars
Other bars you'll find in this product selection are intended to be enjoyed as snacks in between your daily meals. These bars typically provide fewer calories and are smaller in size. The nutritional information printed on the packaging will tell you more about how many calories are in a single serving of each low protein snack bar. Plus, the labels provide information about what nutrients are found in the bars.
Nutritional Bars
If you're on a restrictive diet, you can find bars that are in line with your nutritional needs at CVS. Many popular weight loss plans offer meal replacement and snack bars that fit into their dietary guidelines. For individuals who must avoid certain types of ingredients, there are gluten free, low sodium vegan, dairy free, sugar free, and lactose intolerant bars. Those who prefer to eat clean diets can chose from USDA certified organic and all-natural bars in a variety of flavors.
Related Search
breakfast cereal, nature valley granola bars, best protein bars, chewy bar, clif bar, breakfast bar