Hartz 3 In 1 Control Collar For Dogs White & Blue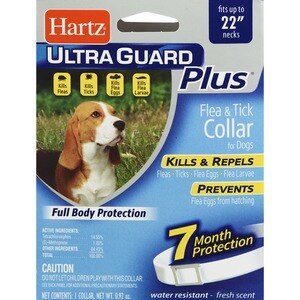 Hartz 3 In 1 Control Collar For Dogs White & Blue
1 EA, .16 lbs. Item # 354682
Kills fleas, ticks & flea eggs for 7 months. Net wt 1.16 oz. Fits up to 23 inch (58 cm) necks. To activate collar hold at each end; Stretch - it's ready to work. Powder Action. Money-back guarantee.
Ingredients
Active Ingredients (by Weight): Tetrachlorvinphos (14.55%), (S)-Methoprene (1.02%). Other Ingredients: (84.43%).
Read entire label before each use. Use only on dogs. It is a violation of Federal Law to use this product in a manner inconsistent with its labeling. Remove collar from package, unroll and stretch to activate insecticide generator. As the collar begins to work, a fine white powder will appear on the surface. Do not use on puppies under 6 weeks old. Do not unroll collar until ready to use. Place the Hartz Advanced Care 3 in 1 Control Collar for Dogs around the dog's neck, adjust for proper fit, and buckle in place. The collar must be worn loosely to allow for growth of the animal and to permit the collar to move around the neck. A properly fitted collar is one that when fastened, will snugly slide over the pet's head. Leave 2 or 3 inches on the collar for extra adjustment and cut off and dispose of the extra length. Consult a veterinarian before using this product on debilitated, aged or medicated animals. If used on pregnant or nursing dogs do not replace collar until the puppies are at least 6 weeks old. Sensitivity may occur after using any pesticide product for pets. Some animals may become irritated by any collar if it is applied too tightly. If this occurs loosen the collar. If irritation continues, remove the collar from the animal. If signs of sensitivity occur bathe your pet with mild soap and rinse with large amounts of water. If signs continue, consult a veterinarian immediately. Do not use this product on animals simultaneously or within 30 days before or after treatment with or exposure to cholinesterase inhibiting drugs, pesticides, or similar chemicals. However, flea and tick collars may be immediately replaced with new collars. This collar is intended for use only as an insecticide/IGR generator. The collar will begin to kill fleas, ticks and flea eggs and larvae immediately. Its full protection against harder-to-kill ticks will be built up within a few days after being placed on the pet. For continuous protection under normal conditions replace the collar every 7 months. Under conditions where pets are exposed to severe flea and tick infestations, it may be necessary to replace the collar more frequently. Wetting will not impair the collar's effectiveness or the pet's protection. If the pet goes swimming or is out in the rain it is not necessary to remove the collar. The Hartz Advanced Care 3 in 1 Control Collar for Dogs may be worn with a regular collar. Storage: Store at room temperature. Disposal: Do not reuse empty pouch. Place in trash or offer for recycling if available.
Warnings
Do not let children play with this collar. Precautionary Statements: Hazards to Humans and Domestic Animals: Harmful if swallowed or absorbed through skin. Causes moderate eye irritation. Avoid contact with eyes, skin, or clothing. Wash thoroughly with soap and water after handling. First Aid: Contains an organophosphate that inhibits cholinesterase. If Swallowed: Call a Poison Control Center or doctor immediately for treatment advice. Have person sip a glass of water if able to swallow. Do not induce vomiting unless told to do so by a Poison Control Center or doctor. Do not give anything by mouth to an unconscious person. If On Skin Or Clothing: Take off contaminated clothing. Rinse skin immediately with plenty of water for 15-20 minutes. Call a Poison Control Center or doctor for treatment advice. If In Eyes: Hold eye open and rinse slowly and gently with water for 15-20 minutes. Remove contact lenses, if present, after the first 5 minutes, then continue rinsing eye. Call a Poison Control Center or doctor for treatment advice. Have product container or label with you when calling a Poison Control Center or doctor, or going for treatment. Note to Physicians and Veterinarians: This product contains an organophosphate and may cause cholinesterase inhibition. Cholinergic symptoms may include salivation, miosis, incoordination, muscle fasciculation and/or weakness, vomiting, and diarrhea. Atropine is antidotal. 2-PAM may be effective as an adjunct to atropine. In case of emergency call The Hartz Mountain Corporation at 800-275-1414 or your local Poison Control Center for further information.
*Customer reviews and ratings solely reflect the views and opinions of the individual contributors and are not created or endorsed by CVS Pharmacy. Please review the product labeling and consult with your doctor with any health or medical questions.