Showing 1-14 of
14 products
CVS Health Natural Daily Fiber Smooth Dissolving
CVS Health
Buy 1, Get 1 40% Off - Add 2 or more to qualify!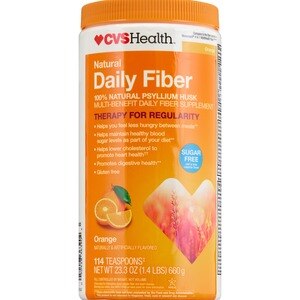 CVS Health Smooth Dissolving Natural Sugar Free Daily Fiber, Orange 114 Teaspoon Doses
CVS Health
Buy 1, Get 1 40% Off - Add 2 or more to qualify!
CVS Health
Buy 1, Get 1 40% Off - Add 2 or more to qualify!
Limit 6 per order
CVS Health Fiber Gummies, 175 CT
CVS Health
Buy 1, Get 1 40% Off - Add 2 or more to qualify!
Limit 6 per order
CVS Health Natural Daily Fiber Orange Single Dose Powder Packs, 11.3 OZ
CVS Health
Buy 1, Get 1 40% Off - Add 2 or more to qualify!
Limit 4 per order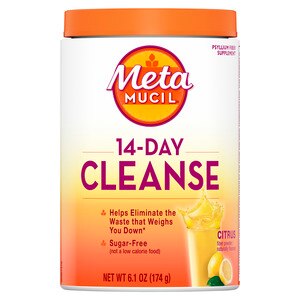 Metamucil Fiber 14-Day Cleanse, Psyllium Fiber Supplement, Sugar Free Powder, Citrus Flavored Drink, 30 servings
Metamucil
Prices may vary from online to in store.
CVS offers a wide selection of fiber supplements. Ask your healthcare provider if a fiber supplement is right for you and if so, how frequently you should be taking fiber supplement products.
What Is Fiber?
Fiber is an important part of your overall health, especially your digestive tract. It is a type of carbohydrate that can pass through your body undigested, helping to regulate your body's use of sugars, keeping hunger and blood sugar in check. It is also important for keeping your digestive tract moving along at a normal pace.Many fiber supplements contain a key ingredient added is
polydextrose
, a chain of sugars that aid in digestion and metabolizing measures to help a person stay fuller or use the bathroom as needed. Try products containing polydextrose today!
How Much Fiber Do I Need?
It's important to make sure that you're getting enough fiber in your daily diet. You can increase the amount of fiber you get by taking a fiber supplement. Ideally, adult women under the age of 50 should have 21 to 25 grams of fiber per day. For men under 50, the mount is slightly higher at 30 to 38 grams per day according to the American Heart Association. For kids between the ages of 1 and 18, between 14 and 31 grams of fiber per day is ideal. You can increase the amount you get by taking a fiber supplement, but make sure you read the label carefully and take the right amount that works for your gender and age group
How Much Fiber Per Day?
The recommended daily intake of fiber is 25 grams for women and 38 grams for men.
What Is Soluble Fiber?
There are two types of fiber: soluble and insoluble. Soluble fiber absorbs water and turns into a gel-like consistency. Insoluble fiber does not turn into the same mushy texture. If you want to get more soluble fiber, eat foods like nuts, beans, apples, oatmeal, and blueberries, which are rich in soluble fiber. A benefit to soluble fiber is that it may help you to lose weight. Since this type of fiber expands, it can help to keep you full without getting hungry as often. This form of fiber is also helpful to promote healthy bowel movements by soaking up water as it passes through your intestines, preventing constipation.
What Is Dietary Fiber?
The term dietary fiber refers to the fiber that comes from natural foods. If you want to get more dietary fiber, there are many sources including leafy greens. Dietary fiber comes from the parts of plants that your body cannot naturally absorb or digest. The fiber passes through your stomach, intestines, and colon without being absorbed. That's why taking a fiber supplement or eating other foods rich in soluble and insoluble fiber is so important.
What Is Insoluble Fiber?
Insoluble fiber helps material move through your digestive system to increase the bulk of your stool. This type of fiber is good for people who deal with irregular bowel movements or frequent constipation. Food like nuts, green beans, potatoes, wheat bran, and cauliflower are all good sources of insoluble fiber. Whole wheat flour is another good source of this type of fiber that can easily be added to your diet.
What Foods Are High In Fiber?
Fiber is found in fruits, vegetables, whole grains, beans and nuts. Some high fiber foods include almonds, lentils, beans, avocados, and raspberries. If you're looking to increase your daily fiber intake try adding these foods into your diet. While a fiber supplement won't make up for poor eating habits, it can help to supplement the natural fiber that you are ingesting in your daily meals.
Supplements For Fiber
Are you often on the go? Fiber pills may be a good choice for you. Fiber tablets and capsules do not need to be mixed into water, so it's much easier to take them wherever you happen to be – at work, at a sporting event, or even on vacation! Fiber tablets and capsules typically come in a lightweight bottle that can easily be stashed in a purse or briefcase. Keep in mind that while there is no mixing required, it is still important to take fiber pills with an appropriate amount of liquid to avoid choking. In fact, you should not take fiber supplements if you have difficulty swallowing. Your doctor can offer alternative solutions and tailored advice if this is the case. You should also talk to your doctor before use if you are taking any prescription medications, because fiber supplements may interfere with how well some medications work.
Related Searches
fiber gummies, fiber bars, fiber powder probiotics with fiber , constipation relief, anti diarrhea medicine